Weekly Wrap Up (2)
Wow this week flew by fast seemed like it was just Sunday. I am so extremely happy with the response I've been getting about my blog. Thank you all for the kind words it means so much. Now lets get to the books. This week I received one for review which is also what I'm currently reading. It is called Paradox and it is by the Author Patti Roberts.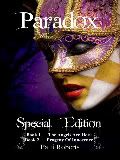 I am really digging this book and hope to have a review up in the next few days. I also have a copy to give away so look out for that. I didn't buy a single book this week. I had intended on picking up The Way We Fall by Megan Crewe and Cinder by Marissa Meyer but both were out at the store. I'm going to check my local tomorrow but if it doesn't have them then I guess I will just by the E-book versions. Oh I almost forgot I won some bookmarkers from a Twitter giveaway awhile back. They came in the mail on Tuesday. I can't find the envelope they are in but once I do I'll take a picture and insert it in here.
I guess that about wraps up my Blog week. Thanks again for stopping by!