Freebie Friday (5)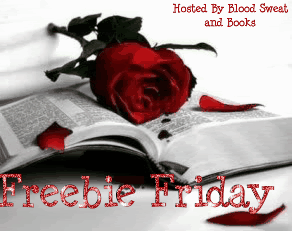 It's time for another edition of Freebie Friday! Each week I compile a list of books that I've found for FREE and share them with all of you! All you have to do is click on the title and it will take you to the purchase page. This was a great week for Free Books on Amazon but I've whittled it down to my Top 5 of the week to share with you.
All Airel ever wanted was to be normal, to disappear into the crowd. But bloodlines can produce surprises, like an incredible ability to heal. Then there's Michael Alexander, the new guy in school, who is impossibly gorgeous…and captivated by her. Somewhere in the back of her mind, she can hear the sound of pages turning, and another, older story being written. It is the story of an ancient family, of great warriors, of the Sword of Light, and the struggle against an evil so terrible, so far-reaching, that it threatens everything. Airel knew change would be an inevitable part of life. But can she hold on when murder and darkness begin to close in and take away everything she loves? Will she have what it takes when the truth is finally revealed?
Zellie Wells has a devastating crush on Avery Adams, the son of her mom's high school sweetheart. At her sixteenth birthday party, held in the basement of her dad's church, she finally finds the courage to talk to him. Turns out, the devastating crush is mutual.
As Avery takes her hand and leads her out onto the makeshift dance floor, Zellie is overwhelmed by her first vision of his death; shocking because not only are they both covered in his blood, but they're old, like 35, and she is pregnant.
Afraid to tell anyone about the vision, (she'd just be labeled a freaky black magic witch, right?) Zellie keeps the knowledge of Avery's future to herself and tries to act like any other teenager in love. When they get caught on their way to a secret rendezvous by her mom and his dad, they are forbidden to see each other.
Convinced that their parents are freaking out unnecessarily, Avery and Zellie vow to be together no matter what. They continue their relationship in secret until Zellie learns that their parents are just trying to prevent her and Avery from suffering like they did. The visions are hereditary, they're dangerous, and if they stay together the visions will come true.
Now Zellie must choose between severing all ties with Avery, like her mom did to prevent his father's death, and finding a way to change Avery's future.
God of Mischief.
Father of Lies.
Harbinger of Destruction.
Exiled and tortured by the gods, Loki swears vengeance.
He will summon the mighty Fenris Wolf and the legendary Midgard Serpent, and they will lead an army of giants and all the dead in Niflheim.
Brimming with the power of the most destructive being in the Nine Worlds, he will not rest till Asgard is in ashes and all the gods are dead under his heel.
Created for evil.
Raised to protect
Searching for truth.
Extraordinary teen Meg Winter and her brothers Alik and Evan are shoved into a new reality when they discover life is not what they thought it was: there is evil hunting them, they are not normal teens, and their mother's captor wants them back to continue his plans for the perfect race.
Kayla is a 16-year-old girl who was adopted when she was little. She lives a normal life, with great friends, loving adoptive parents, and well... a not-so-great boyfriend. But the reason why she was given up for adoption was far from any usual reason. She was meant to be kept away from the Academy and anything else related to the supernatural beings that could hurt her.
Unfortunately for Kayla, it was only a matter of time before she encountered the creatures from the Otherworld, and there is just no running away from the beings that she can now see.
In trying to protect Kayla by keeping her away from the Academy, she may have just been put in even more danger.
*Though free at time of posting, please verify that the "Kindle Price" is actually $0.00. If you see a price for "Prime Members" or "read for free", then the book is NOT free any longer. Please leave a comment if you notice this so I can replace with another :)