Freebie Friday (8)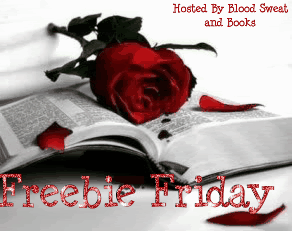 It's time for another edition of Freebie Friday! Each week I compile a list of books that I've found for FREE and share them with all of you! All you have to do is click on the title and it will take you to the purchase page.
Seventeen-year old princess, Clara Williamson, lives an old-fashioned existence in a biosphere of the future.
When her sadistic mother, Queen Ada, betroths her to an abusive prince of a neighboring sphere, Clara determines to escape Outside where savages roam free.
Clara escapes tyranny only to discover the savages are not the only people who survived the cataclysmic events of one hundred forty years prior.
Once Outside, Clara finds herself trapped, unable to return to the abusive life of the sphere while facing certain danger Outside.
Can Clara find love and freedom with the peril that threatens to consume her?
Clara never asked to be special. She was perfectly happy e-stalking her crush's blog, avoiding the attention of the Bronze Brigade clique at school, awaiting the next visit from her avant-garde Aunt Grace, and dreaming of a strange young man ... who feels too real to be only a dream.
But then one day, her world literally separates at the seams, as a blinding light rips her mother away right before her eyes. In one, inexplicable moment, Clara is tugged from a life where her biggest worry is how to avoid social scrutiny to having the burden of her mother's disappearance and her father's subsequent unhappiness hoisted squarely onto her shoulders.
Precisely one year later, on her 17th birthday, the blinding white light returns. This time, the light brings with it more than just grief. It ushers in a cast of Guardians who have been with Clara all along, waiting for her to awaken and remember a promise she made in another world. When Clara learns what is expected of her, and the price she must pay to restore order, she can only hope that the still dormant ancient soul that lives inside of her is truly fighting on the side of Good.
Sixteen original short stories, all from the point of view of our favorite male characters. Using prequel short stories and retellings from alternate points of view, these stories peek inside the male characters from the contributors' novels, giving new insights and sigh worthy moments.
Contributors include: C.K. Bryant, Lisa Nowak, Magan Vernon, Elle Strauss, Laura Pauling, Cheri Lasota, S.R. Johannes, Stacy Wallace Benefiel, Ali Cross, Jessie Harrell, Katie Klein, Karen Amanda Hooper, RaShelle Workman, Heather McCorkle, Susan Kaye Quinn, and Cory Putman Oakes
Twelve children disappear while swimming at Lake Como during the summer holidays. There are no clues except for the boogie board belonging to ten-year-old Jordan Carrefour found floating on the lake's surface.
Cast into a spell to live as spirits in the river Kai, and divided into two opposing spirit groups, the children learn that it is only through trust, camaraderie, and teamwork do they have a chance to return home to their families. However, when a wood spirit named Faith suffers the consequences of Toby Witherspoon's daring escape, all bets are off, even though a greater threat emerges on the banks of the river Kai.
Disgraced scholar Dennon Lark only wants to be left alone in his self-imposed exile—an exile that ends when a rebel army wielding impossible powers launches a series of brutal attacks across the Kingsland.
Torn from his isolation, Dennon is thrust back into the very work that sent him into hiding to begin with. His research into the kingdom's lost history may hold the answers to a great many mysteries—like why so many people thought killed by the rebels later resurface fighting by their side. And only the King's infamous warrior niece Bryndine Errynson and her company of female soldiers trust him enough to help him find the truth before the rebels burn the Kingsland to the ground.
Racing against time and pursued by forces beyond their understanding, Dennon and Bryndine may be the realm's only hope. But in order to preserve the Kingsland's future, they must first uncover its past.
*Though free at time of posting, please verify that the "Kindle Price" is actually $0.00. If you see a price for "Prime Members" or "read for free", then the book is NOT free any longer. Please leave a comment if you notice this so I can replace with another :)