Freebie Friday (9)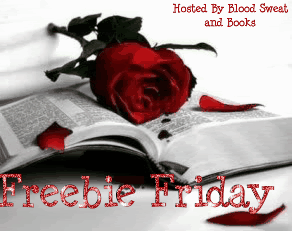 It's time for another edition of Freebie Friday! Each week I compile a list of books that I've found for FREE and share them with all of you! All you have to do is click on the title and it will take you to the purchase page.
SHE'S JUST INHERITED SUPERPOWERS, OF...ER, SARCASM?
She's wild, outspoken, trouble follows Carla Mainston wherever she goes. But what do you expect from a purple outcast living in a green colony? She's the last girl on the planet who should be inheriting special powers.
As if that wasn't bad enough, there's a deadly disease spreading faster than a dirty joke in the playground and when Carla's brother Joe becomes infected, she has to find a cure before it's too late.
With the assistance of a muscle-bound scientist called Parklon and a dealer in illegal books called Bob, Carla discovers that superpowers don't come without a price. With a murderer on her heels, Carla has to use every trick in the book. That's if she doesn't get arrested, or end up having the life sucked out of her by her new boyfriend.
Seventeen-year-old Cameron Martin has a huge problem: he's aging a whole year of his life with each passing day!
High school is hard enough; imagine rapidly aging from seventeen to seventy in a matter of weeks, with no logical explanation, and with prom, graduation, and the state championship basketball game on the horizon. That's what happens to Cameron, a popular pretty boy who's never had to face a day looking anything but perfect.
All Cameron wants to do is go back to normal, but no one, not even the best doctors, can diagnose his condition. When he finds love with a mysterious young woman, however, he realizes his only hope for survival might be with the one person who started his condition in the first place.
Cameron Martin has a huge problem: he's aging a whole year of his life with each passing day… again. And this time... he's going backward!
When Cameron proposes to his beloved witch of a girlfriend Liesel, he thinks life can't get any better. But when he reluctantly breaks off the engagement just days before the wedding, Liesel angrily unleashes another curse on the unlucky guy, this time making him age backward, from eighteen, all the way to zero.
Making matters worse, Liesel mysteriously disappears, leaving Cameron with no options, except watching himself rapidly shrink into a helpless child. Will Liesel be able to save his life again? Or will Cameron ultimately fall prey to his girlfriend's wicked spell?
Chosen is a fantasy adventure - location; Hell, Purgatory, the Demon's Lair, and Hell is everything it's cracked up to be.
Sixteen-year-old Dynan Telaerin finds himself on a corpse-strewn hillside, uncertain if he's dead or alive, charged with saving the soul of his ancestor, the most powerful telepath to ever exist. Dynan has telepathic powers of his own, only he doesn't know how to use them. With monsters and minions trying to eat his soul, the demon's lair isn't the place to learn anything - except how to run and how to hide. Will courage alone be enough to face the greatest evil to exist? Will he lose his soul to save everyone else?
The running starts, and doesn't stop to the end of this action packed adventure of a young man coming to terms with his life while he's barely a spirit, through horrors he thought existed only in dreams.
*Though free at time of posting, please verify that the "Kindle Price" is actually $0.00. If you see a price for "Prime Members" or "read for free", then the book is NOT free any longer. Please leave a comment if you notice this so I can replace with another :)