Trailer Tuesday (10)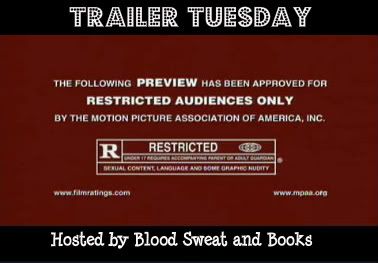 Trailer Tuesday is a Weekly Blog Post hosted by me at Blood Sweat and Books. Each week I choose two Book Trailers to showcase. One Trailer will be for an upcoming book and the other will be one that has already been released.
This Week I am showcasing Offworld by Robin Parrish and Of Poseidon by Anna Banks
Author: Robin Parrish
Publication Date: July 1,2009
Publisher: Bethany House
ISBN: 0764206060 (ISBN13: 9780764206061)
Goodreads Page: Click Here
Available Now Wherever Books are Sold.
*Note: Offworld is a Christian fiction book. I didn't know this until after I stumbled across the trailer on Youtube and picked it out for an upcoming Trailer Tuesday. I am still choosing to showcase the book even so because it looks interesting and after researching the reviews were really good.
The return of NASA's first manned mission to Mars was supposed to be a momentous day. But when the crew loses touch with ground control before entry, things look bleak. Safe after a treacherous landing, the crew emerges to discover the unthinkable--every man, woman, child, and animal has vanished without a trace. Alone now on their home planet, the crew sets out to discover where everyone has gone--and how to get them back--only to discover they may not be as alone as they thought.
Galen is the prince of the Syrena, sent to land to find a girl he's heard can communicate with fish. Emma is on vacation at the beach. When she runs into Galen—literally, ouch!—both teens sense a connection. But it will take several encounters, including a deadly one with a shark, for Galen to be convinced of Emma's gifts. Now, if he can only convince Emma that she holds the key to his kingdom . . .
Told from both Emma and Galen's points of view, here is a fish-out-of-water story that sparkles with intrigue, humor, and waves of romance.
Author: Anna Banks
Expected Release Date: May 22,2012
Publisher: Feiwel & Friends
ISBN: 1250003326 (ISBN13: 9781250003324)
Goodreads Page: Click Here
Pre-Order:
Barnes & Noble
Amazon
If you would like to participate in this or any future Trailer Tuesdays, Grab the Button below. Please Make sure to link me in the comments so I can check yours out as well.