Trailer Tuesday (9)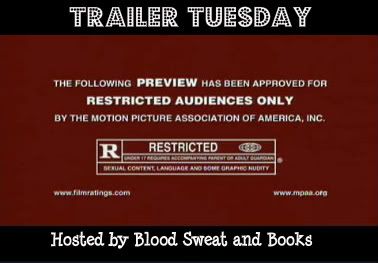 Trailer Tuesday is a Weekly Blog Post hosted by me at Blood Sweat and Books. Each week I will choose two Book Trailers to showcase. One will be for an upcoming book and the other will be one that has already been released.
This Week I am showcasing Dead of Night by Jonathan Mayberry and Insurgent by Veronica Roth.
Author: Jonathan Mayberry
Publication Date: October 25,2011
Publisher: St.Martin's Press
ISBN: 031255219X (ISBN13: 9780312552190)
Goodreads Page: Click Here
Available Now Wherever Books Are Sold.
A prison doctor injects a condemned serial killer with a formula designed to keep his consciousness awake while his body rots in the grave. But all drugs have unforeseen side-effects. Before he could be buried, the killer wakes up. Hungry. Infected. Contagious. This is the way the world ends. Not with a bang…but a bite.
One choice can transform you—or it can destroy you. But every choice has consequences, and as unrest surges in the factions all around her, Tris Prior must continue trying to save those she loves—and herself—while grappling with haunting questions of grief and forgiveness, identity and loyalty, politics and love.
Tris's initiation day should have been marked by celebration and victory with her chosen faction; instead, the day ended with unspeakable horrors. War now looms as conflict between the factions and their ideologies grows. And in times of war, sides must be chosen, secrets will emerge, and choices will become even more irrevocable—and even more powerful. Transformed by her own decisions but also by haunting grief and guilt, radical new discoveries, and shifting relationships, Tris must fully embrace her Divergence, even if she does not know what she may lose by doing so.
New York Times bestselling author Veronica Roth's much-anticipated second book of the dystopian Divergent series is another intoxicating thrill ride of a story, rich with hallmark twists, heartbreaks, romance, and powerful insights about human nature.
Author: Veronica Roth
Expected Release Date: May 1,2012
Publisher: Harper Teen
ISBN: 0007442912 (ISBN13: 9780007442911)
Goodreads Page: Click Here
Pre-Order:
Barnes & Noble
Amazon
If you would like to participate in this or any future Trailer Tuesdays, Grab the Button below. Please Make sure to link me in the comments so I can check yours out as well.