Trailer Tuesday (21)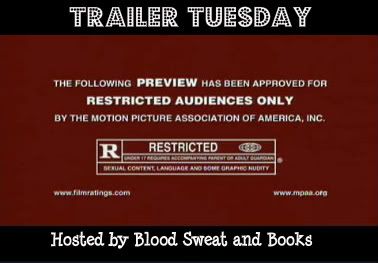 Trailer Tuesday is a Weekly Blog Post hosted by me at Blood Sweat and Books. Each week I choose two Book Trailers to showcase. One Trailer will be for an upcoming book and the other will be one that has already been released.
This Week I will be showcasing Throne of Glass by Sarah J. Maas and Shift (Teaser Trailer) by Kim Curran
Author: Sarah J. Maas
Publication Date: August 7,2012
Publisher: Bloomsbury USA
ISBN: 1599906953 (ISBN13: 9781599906959)
Goodreads Page: Click Here
After serving out a year of hard labor in the salt mines of Endovier for her crimes, 18-year-old assassin Celaena Sardothien is dragged before the Crown Prince. Prince Dorian offers her her freedom on one condition: she must act as his champion in a competition to find a new royal assassin. Her opponents are men-thieves and assassins and warriors from across the empire, each sponsored by a member of the king's council. If she beats her opponents in a series of eliminations, she'll serve the kingdom for three years and then be granted her freedom. Celaena finds her training sessions with the captain of the guard, Westfall, challenging and exhilirating. But she's bored stiff by court life. Things get a little more interesting when the prince starts to show interest in her... but it's the gruff Captain Westfall who seems to understand her best. Then one of the other contestants turns up dead... quickly followed by another. Can Celaena figure out who the killer is before she becomes a victim? As the young assassin investigates, her search leads her to discover a greater destiny than she could possibly have imagined.
When your average, 16-year old loser, Scott Tyler, meets the beautiful and mysterious Aubrey Jones, he learns he's not so average after all. He's a 'Shifter'. And that means he has the power to undo any decision he's ever made. At first, he thinks the power to shift is pretty cool. But as his world starts to unravel around him he realises that each time he uses his power, it has consequences; terrible unforeseen consequences. Shifting is going to get him killed. In a world where everything can change with a thought, Scott has to decide where he stands.
Author: Kim Curran
Expected Publication: September 4,2012
Publisher: Strange Chemistry
ISBN: 1908844043 (ISBN13: 9781908844040)
Goodreads Page: Click Here
Have you read Throne Of Glass yet? What did you think? Do you plan on reading Shift? What do you think of the trailers? Leave your answers in the comments below, I love reading your responses!