Trailer Tuesday (24)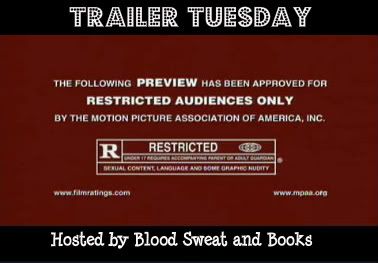 Trailer Tuesday is a Weekly Blog Post hosted by me at Blood Sweat and Books. Each week I choose two Book Trailers to showcase. One Trailer will be for an upcoming book and the other will be one that has already been released.
This Week I will be showcasing What's Left Of Me by Kat Zhang and Sacred by Elana K. Arnold.
Author: Kat Zhang
Publication Date: September 18,2012
Publisher: Harper Collins
Goodreads Page: Click Here
Eva and Addie started out the same way as everyone else—two souls woven together in one body, taking turns controlling their movements as they learned how to walk, how to sing, how to dance. But as they grew, so did the worried whispers. Why aren't they settling? Why isn't one of them fading? The doctors ran tests, the neighbors shied away, and their parents begged for more time. Finally Addie was pronounced healthy and Eva was declared gone. Except, she wasn't . . .
For the past three years, Eva has clung to the remnants of her life. Only Addie knows she's still there, trapped inside their body. Then one day, they discover there may be a way for Eva to move again. The risks are unimaginable-hybrids are considered a threat to society, so if they are caught, Addie and Eva will be locked away with the others. And yet . . . for a chance to smile, to twirl, to speak, Eva will do anything.
Growing up on Catalina Island, off the California coast, Scarlett Wenderoth has led a fairly isolated life. After her brother dies, her isolation deepens as she withdraws into herself, shutting out her friends and boyfriend. Her parents, shattered by their own sorrow, fail to notice Scarlett's pain and sudden alarming thinness. Scarlett finds pleasure only on her horse, escaping to the heart of the island on long, solitary rides. One day, as she races around a bend, Scarlett is startled by a boy who raises his hand in warning and says one word: "Stop."
The boy—intense, beautiful—is Will Cohen, a newcomer to the island. For reasons he can't or won't explain, he's drawn to Scarlett and feels compelled to keep her safe. To keep her from wasting away. His meddling irritates Scarlett, though she can't deny her attraction to him. As their relationship blossoms into love, Scarlett's body slowly awakens at Will's touch. But just when her grief begins to ebb, she makes a startling discovery about Will, a discovery he's been grappling with himself. A discovery that threatens to force them apart. And if it does, Scarlett fears she will unravel all over again.
Author: Elana K. Arnold
Expected Publication: November 13,2012
Publisher: Delacorte Books For Young Readers
Goodreads Page: Click Here
Are you going to pick up What's Left Of Me Today? Do you plan of reading Sacred? What do you think of the Trailers? Leave your answers in the comments below, I love reading your responses!
Have a Trailer you would like showcased? Send me an
Email me
. I'm always on the lookout for new book trailers to show off.
Like what you see? Please Share! I thank you if you do.