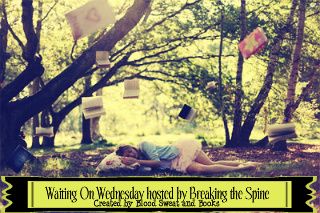 Waiting On Wednesday is a weekly blog post hosted by
Breaking The Spine
. For this week's Waiting On Wednesday I chose *drumroll* Dark Triumph (His Fair Assassin #2) by
R.L. LaFevers





Author: R.L. LaFevers
Page Count: 400
Publisher: Houghton Mifflin Books for Children
Series: His Fair Assasin #2




Expected Publication:
April 2,2013

Sybella arrives at the convent's doorstep half mad with grief and despair. Those that serve Death are only too happy to offer her refuge—but at a price. Naturally skilled in both the arts of death and seduction, the convent views Sybella as one of their most dangerous weapons.

But those assassin's skills are little comfort when the convent returns her to a life that nearly drove her mad. Her father's rage and brutality are terrifying, and her brother's love is equally monstrous. And while Sybella is a weapon of justice wrought by the god of Death himself, He must give her a reason to live. When she discovers an unexpected ally imprisoned in the dungeons, will a daughter of Death find something other than vengeance to live for?

Why Am I Waiting
I've not hidden the fact that Grave Mercy was my favorite book of 2012. I loved that book and if I had the ability of a time turner I'd have jumped at the chance to go forward in time to read Dark Triumph. I cannot express how much I love this series after one book but lets just say after reading Grave Mercy my reaction was quite like this:


and IF I'm chosen to receive an Arc of Dark Triumph I know my reaction will be quite like this:


So needless to say I'm really excited for this release lol.


That wraps up my Waiting on Wednesday, leave me the link to yours so I can check it out as well! Have you started this series yet? If so, How excited for Dark Triumph are you? What do you think of the cover? Let me Know In The Comments Below! I love reading your responses.