Trailer Tuesday (42) Rapture by Lauren Kate & The Demonologist by Andrew Pyper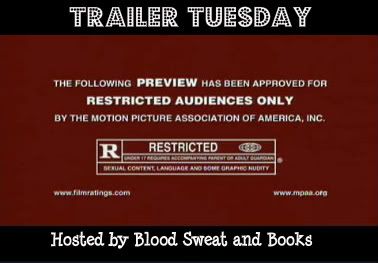 Trailer Tuesday is a Weekly Blog Post hosted by me at Blood Sweat and Books. Each week I choose two Book Trailers to showcase. One Trailer will be for an upcoming book and the other will be one that has already been released.
This Week I focus my spotlight on Rapture by Lauren Kate and The Demonologist by Andrew Pyper.
The sky is dark with wings . . . . Like sand in an hourglass, time is running out for Luce and Daniel. To stop Lucifer from erasing the past they must find the place where the angels fell to earth. Dark forces are after them, and Daniel doesn't know if he can do this—live only to lose Luce again and again. Yet together they will face an epic battle that will end with lifeless bodies . . . and angel dust. Great sacrifices are made. Hearts are destroyed. And suddenly Luce knows what must happen. For she was meant to be with someone other than Daniel. The curse they've borne has always and only been about her—and the love she cast aside. The choice she makes now will be the only one that truly matters. In the fight for Luce, who will win?
Professor David Ullman's expertise in the literature of the demonic—notably Milton's Paradise Lost—has won him wide acclaim. But David is not a believer. One afternoon he receives a visitor at his campus office, a strikingly thin woman who offers him an invitation: travel to Venice, Italy, witness a "phenomenon," and offer his professional opinion, in return for an extravagant sum of money. Needing a fresh start, David accepts and heads to Italy with his beloved twelve-year-old daughter Tess. What happens in Venice will send David on an unimaginable journey from skeptic to true believer, as he opens himself up to the possibility that demons really do exist. In a terrifying quest guided by symbols and riddles from the pages of Paradise Lost, David attempts to rescue his daughter from the Unnamed—a demonic entity that has chosen him as its messenger.
===============================================================
What do you think of the Trailers? Are you planning on reading either book? Have you started The Fallen Series? If so, Have you read Rapture yet? Leave your answers in the comments below, I love reading your responses! Have a Trailer you would like showcased? Send me an
Email me
. I'm always on the lookout for new book trailers to spotlight.
Like what you see? Please Share! I thank you if you do.