Trailer Tuesday (49) Deadgirl by B.C. Johnson & Boy Nobody by Allen Zadoff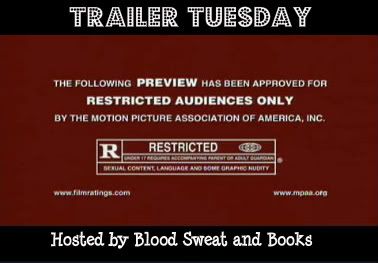 Trailer Tuesday is a Weekly Blog Post hosted by me at Blood Sweat and Books. Each week I choose two Book Trailers to showcase. One Trailer will be for an upcoming book and the other will be one that has already been released.
This week I focus my spotlight on Deadgirl by B.C. Johnson and Boy Nobody by Allen Zadoff.
"You know how it is: go on a date, get killed, wake up the next morning. No? Just me?" - Lucy Day
Fifteen-year-old Lucy Day falls between the gears in the machinery of the afterlife. She is murdered while on her first date, but awakens a day later, completely solid and completely whole. She has no hunger for brains, blood, or haunting, so she crosses "zombie," "vampire," and "ghost" off her list of re-life possibilities. But figuring out what she is becomes the least of her worries when Abraham, Lucy's personal Grim Reaper, begins dogging her, dead-set on righting the error that dropped her back into the spongy flesh of a living girl.
Lucy must put her mangled life back together, escape re-death, and learn to control her burgeoning psychic powers while staying one step ahead of Abraham. But when she learns the devastating price of coming back from the dead, Lucy is forced to make the hardest decision of her re-life—a decision that could save her loved ones...or kill them.
Boy Nobody is the perennial new kid in school, the one few notice and nobody thinks much about. He shows up in a new high school, in a new town, under a new name, makes few friends and doesn't stay long. Just long enough for someone in his new friend's family to die -- of "natural causes." Mission accomplished, Boy Nobody disappears, and moves on to the next target.
When his own parents died of not-so-natural causes at the age of eleven, Boy Nobody found himself under the control of The Program, a shadowy government organization that uses brainwashed kids as counter-espionage operatives. But somewhere, deep inside Boy Nobody, is somebody: the boy he once was, the boy who wants normal things (like a real home, his parents back), a boy who wants out. And he just might want those things badly enough to sabotage The Program's next mission.
===============================================================
What do you think of the Trailers?
Have you read Deadgirl yet? If so, Would you recommend it?
Will you be reading Boy Nobody?
Leave your answers in the comments below, I love reading your responses!
Have a Trailer you would like showcased? Send me an
Email me
. I'm always on the lookout for new book trailers to spotlight.
Like what you see? Please Share! I thank you if you do.