Waiting On Wednesday (50) Inhuman by Kat Falls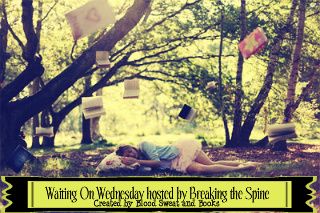 Waiting On Wednesday is a weekly blog post hosted by
Breaking The Spine
. For this week's Waiting On Wednesday I chose Inhuman by Kat Falls.
Title: Inhuman
Series: Fetch #1
Genre: Post-Apocalyptic, Science Fiction, Fantasy
Publisher: Scholastic
Expected Publication: October 1,2013
In a world ravaged by mutation, a teenage girl must travel into the forbidden Savage Zone to recover lost artifacts or her father's life is forfeit.
America has been ravaged by a war that has left the eastern half of the country riddled with mutation. Many of the people there exhibit varying degrees of animal traits. Even the plantlife has gone feral.

Crossing from west to east is supposed to be forbidden, but sometimes it's necessary. Some enter the Savage Zone to provide humanitarian relief. Sixteen-year-old Lane's father goes there to retrieve lost artifacts—he is a Fetch. It's a dangerous life, but rewarding—until he's caught.

Desperate to save her father, Lane agrees to complete his latest job. That means leaving behind her life of comfort and risking life and limb—and her very DNA—in the Savage Zone. But she's not alone. In order to complete her objective, Lane strikes a deal with handsome, roguish Rafe. In exchange for his help as a guide, Lane is supposed to sneak him back west. But though Rafe doesn't exhibit any signs of "manimal" mutation, he's hardly civilized . . . and he may not be trustworthy.
____________________________________________
I really love Post Apocalyptic books so when I cam across this one

on

Goodreads I knew it was one I had to add to the TBR. I am really curious not only about the Savage Zone but also the feral plants and Manimal mutations. I also wonder why going into the savage zone will risk Lane's DNA. I'm going to guess because the mutants will want to breed the mutation out of them maybe but I suppose I'll have to wait and see for any true inclination as to why.
_____________________________________________
That about wraps up my Waiting on Wednesday for this week. Feel free to leave me the link to your Wednesday memes in the comments below so I can check them out as well! I love reading them all.
Out of curiosity, Will you be starting this series? What do you think of the cover?
If you were mutated into animal which would you like to be and why?