Trailer Tuesday (52) Hunted by Cheryl Rainfield & Twisted Bloodlines by Linda Jackson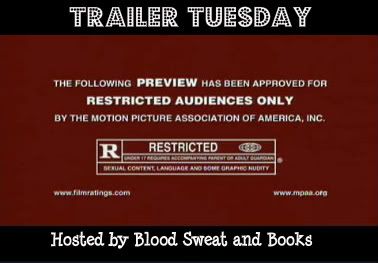 Trailer Tuesday is a Weekly Blog Post hosted by me at Blood Sweat and Books. Each week I choose two Book Trailers to showcase. One Trailer will be for an upcoming book and the other will be one that has already been released.
This week I focus my spotlight on Hunted by Cheryl Rainfield & Twisted Bloodlines by Linda Jackson
Caitlyn is a telepath in a world where having any Paranormal power is illegal. Caitlyn is on the run from government troopers, who can enslave, torture, or even kill her, or make her hunt other Paranormals. When Caitlyn settles down in a city, she falls for Alex, a Normal (someone without Paranormal powers), which is dangerous because he can turn her in. And she discovers renegade Paranormals who want to destroy all Normals. Caitlyn must decide whether she's going to stay in hiding to protect herself, or take a stand to save the world.
Megan has never had what most would call a normal life.
Her childhood and teen years were spent on the run with her family, hiding from a horror so great it defines their world. Friends and homes are traded at a moment's notice to escape from their worst nightmares.
Years pass, and her mother settles down with her new step-father, a kind man who does his best to protect them. Life lulls into a safe pace, and Megan finally feels as though she has control of her future for the first time in her life. But that peace is shattered with the arrival of a new family member, one that bears a striking resemblance to a savior of her past…
Confused by her deep emotional connection to him, things unravel fast. She learns that the people she lives with, even her own family, are not what they seem. Her only friend who helped her piece her life back together changes overnight, and she is left dealing with the fallout on her own…
As events unfold, Megan finds herself face to face with the horror that has haunted her since childhood. But will she be able to escape from her twisted bloodline?
===============================================================
What do you think of the Trailers?
Have you read Hunted? If so, share a link to your review!
Will you be reading Twisted Bloodlines?
Leave your answers in the comments below, I love reading your responses!
Have a Trailer you would like showcased? Send me an
Email me
. I'm always on the lookout for new book trailers to spotlight.
Like what you see? Please Share! I thank you if you do.