Trailer Tuesday (54) Night Walker by Lisa Kessler & Siege and Storm by Leigh Bardugo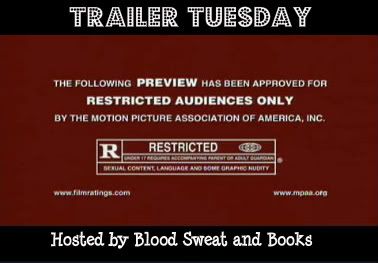 Trailer Tuesday is a Weekly Blog Post hosted by me at Blood Sweat and Books. Each week I choose two Book Trailers to showcase. One Trailer will be for an upcoming book and the other will be one that has already been released.
This week I focus my spotlight on Nightwalker by Lisa Kessler & Siege and Storm by Leigh Bardugo
He gave up his soul for a second chance to love her...

Two and a half centuries ago, Calisto Terana lost everything when a zealous priest murdered the woman he loved. Now, desperate for another chance to love her, he wants redemption for the mistake that cost her life.

She's haunted by dreams of her own death...

After catching her fiance with another woman, Kate Bradley returns to San Diego to clear her head. The last thing she needs is romance, but after meeting Calisto she's drawn to him in ways she doesn't understand.

They've waited in the shadows for centuries...

Calisto has no doubt Kate is the reincarnation of his lost love, but the Fraternidad Del Fuego Santo has a new watcher with dark ambitions of his own. As old enemies reemerge and a new threat arises, the betrayal that enslaved Calisto to the night might destroy the only woman he's ever loved again.



Darkness never dies.

Hunted across the True Sea, haunted by the lives she took on the Fold, Alina must try to make a life with Mal in an unfamiliar land, all while keeping her identity as the Sun Summoner a secret. But she can't outrun her past or her destiny for long.

The Darkling has emerged from the Shadow Fold with a terrifying new power and a dangerous plan that will test the very boundaries of the natural world. With the help of a notorious privateer, Alina returns to the country she abandoned, determined to fight the forces gathering against Ravka. But as her power grows, Alina slips deeper into the Darkling's game of forbidden magic, and farther away from Mal. Somehow, she will have to choose between her country, her power, and the love she always thought would guide her–or risk losing everything to the oncoming storm.



===============================================================




What do you think of the Trailers?

Have you read Night Walker? If so, share a link to your review!

Will you be picking up Siege and Storm today?


Out of curiosity, Which do you like more Vampires or Zombies?

Leave your answers in the comments below, I love reading your responses!



Have a Trailer you would like showcased? Send me an

Email

. I'm always on the lookout for new book trailers to spotlight.

Like what you see? Please Share! I thank you if you do.