Trailer Tuesday (57) The Apothecary by Maile Meloy & William Shakespeare's Star Wars by Ian Doescher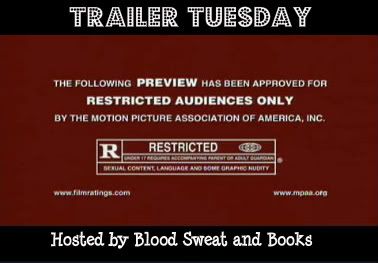 Trailer Tuesday is a Weekly Blog Post hosted by me at Blood Sweat and Books. Each week I choose two Book Trailers to showcase. One Trailer will be for an upcoming book and the other will be one that has already been released.
This week I focus my spotlight on The Apothecary by Maile Meloy & William Shakespeare's Star Wars by Ian Doescher.
It's 1952 and the Scott family has just moved from Los Angeles to London. Here, fourteen-year-old Janie meets a mysterious apothecary and his son, Benjamin Burrows—a fascinating boy who's not afraid to stand up to authority and dreams of becoming a spy. When Benjamin's father is kidnapped, Janie and Benjamin must uncover the secrets of the apothecary's sacred book, the Pharmacopoeia, in order to find him, all while keeping it out of the hands of their enemies—Russian spies in possession of nuclear weapons. Discovering and testing potions they never believed could exist, Janie and Benjamin embark on a dangerous race to save the apothecary and prevent impending disaster.
Inspired by one of the greatest creative minds in the English language-and William Shakespeare-here is an officially licensed retelling of George Lucas's epic Star Wars in the style of the immortal Bard of Avon. The saga of a wise (Jedi) knight and an evil (Sith) lord, of a beautiful princess held captive and a young hero coming of age, Star Wars abounds with all the valor and villainy of Shakespeare's greatest plays. 'Tis a tale told by fretful droids, full of faithful Wookiees and fearstome Stormtroopers, signifying...pretty much everything.
Reimagined in glorious iambic pentameter—and complete with twenty gorgeous Elizabethan illustrations--William Shakespeare's Star Wars will astound and edify Rebels and Imperials alike. Zounds! This is the book you're looking for.
What do you think of the Trailers?
Have you read The Apothecary yet? If so, what did you think?
Will you be picking up William Shakespeare's Star Wars?
Just for fun: Would you rather be an Alchemist or A Jedi?
Leave your answers in the comments below, I love reading your responses!
Have a Trailer you would like showcased? Send me an
Email
. I'm always on the lookout for new book trailers to spotlight.
Like what you see? Please Share! I thank you if you do.
Want to check out past Trailer Tuesdays?
Click Here
!