Trailer Tuesday (59) Shymers by Jen Naumann & All Our Yesterdays by Cristin Terrell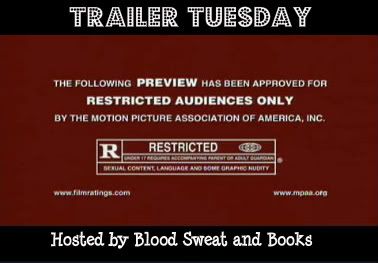 Trailer Tuesday is a Weekly Blog Post hosted by me at Blood Sweat and Books. Each week I choose two Book Trailers to showcase. One Trailer will be for an upcoming book and the other will be one that has already been released. This week I focus my spotlight on Shymers by Jen Naumann & the teaser trailer for All Our Yesterdays by Cristin Terrell.
Available Now:
Shymers by Jen Naumann
In a distant future, Olive Mensing is raised in the solitude of the forest by her parents, away from Society. For a time she is happy and content, trusting in everything her parents tell her, and thinking she has the rest of her life ahead of her. But not long after her father's mysterious death, Olive and her mother are torn from their home and thrown into the very place Olive was raised to fear. There she will discover the brutal truths her parents had tried to keep from her - a Society divided by two classes (Shymers and Futures) based on how many days people have to live, and a government that locks people away for rebellious behaviors.
Although everything seems backwards and hopeless in this new world, Olive makes a few new friends and develops her first crush on a handsome boy. But even then, things aren't as easy as they should be. She finds herself caught up in a whirlwind of hatred, sadness and lies that spins out of control, forcing her to choose between what her heart wants and what she knows is right.
"You have to kill him." Imprisoned in the heart of a secret military base, Em has nothing except the voice of the boy in the cell next door and the list of instructions she finds taped inside the drain.
Only Em can complete the final instruction. She's tried everything to prevent the creation of a time machine that will tear the world apart. She holds the proof: a list she has never seen before, written in her own hand. Each failed attempt in the past has led her to the same terrible present—imprisoned and tortured by a sadistic man called the doctor while war rages outside.
Marina has loved her best friend James since the day he moved next door when they were children. A gorgeous, introverted science prodigy from one of America's most famous families, James finally seems to be seeing Marina in a new way, too. But on one disastrous night, James's life crumbles apart, and with it, Marina's hopes for their future. Now someone is trying to kill him. Marina will protect James, no matter what. Even if it means opening her eyes to a truth so terrible that she may not survive it. At least not as the girl she once was.
All Our Yesterdays is a wrenching, brilliantly plotted story of fierce love, unthinkable sacrifice, and the infinite implications of our every choice.
What do you think of the Trailers?
Have you read Shymers yet? If so, what did you think?
Will you be picking up All Our Yesterdays?
Just for fun:
If you time traveled to a Dystopic Society, Which type would you hope it would be?
Leave your answers in the comments below, I love reading your responses!
Have a Trailer you would like showcased? Send me an
Email
. I'm always on the lookout for new book trailers to spotlight.
Like what you see? Please Share! I thank you if you do.
Want to check out past Trailer Tuesdays?
Click Here
!