Trailer Tuesday (60) The Forest Of Hands and Teeth by Carrie Ryan & Crown of Midnight by Sarah J. Maas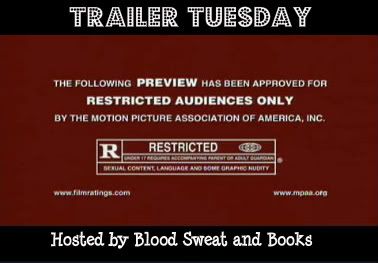 Trailer Tuesday is a Weekly Blog Post hosted by me at Blood Sweat and Books. Each week I choose two Book Trailers to showcase. One Trailer will be for an upcoming book and the other will be one that has already been released. This week I focus my spotlight on The Forest Of Hands and Teeth by Carrie Ryan & Crown of Midnight by Sarah J. Maas.
In Mary's world there are simple truths. The Sisterhood always knows best. The Guardians will protect and serve. The Unconsecrated will never relent. And you must always mind the fence that surrounds the village; the fence that protects the village from the Forest of Hands and Teeth. But, slowly, Mary's truths are failing her. She's learning things she never wanted to know about the Sisterhood and its secrets, and the Guardians and their power, and about the Unconsecrated and their relentlessness. When the fence is breached and her world is thrown into chaos, she must choose between her village and her future—between the one she loves and the one who loves her. And she must face the truth about the Forest of Hands and Teeth. Could there be life outside a world surrounded in so much death?
Expected Publication: August 27, 2013
An assassin's loyalties are always in doubt.
But her heart never wavers.
After a year of hard labor in the Salt Mines of Endovier, eighteen-year-old assassin Celaena Sardothien has won the king's contest to become the new royal assassin. Yet Celaena is far from loyal to the crown – a secret she hides from even her most intimate confidantes.
Keeping up the deadly charade—while pretending to do the king's bidding—will test her in frightening new ways, especially when she's given a task that could jeopardize everything she's come to care for. And there are far more dangerous forces gathering on the horizon -- forces that threaten to destroy her entire world, and will surely force Celaena to make a choice.
Where do the assassin's loyalties lie, and who is she most willing to fight for?
What do you think of the Trailers?
Have you read The Forest of Hands and Teeth yet? If so, what did you think?
Have you read Throne Of Glass? If yes, Will you be purchasing Crown Of Mdnight?
Just for fun:
If you had to fight Zombies, Would you rather have the skills of an Assassin or a Ninja?
Leave your answers in the comments below, I love reading your responses!
Have a Trailer you would like showcased? Send me an
Email
. I'm always on the lookout for new book trailers to spotlight.
Like what you see? Please Share! I thank you if you do.
Want to check out past Trailer Tuesdays?
Click Here
!