Weekly Wrap Up (53)
Welcome to my Weekly Wrap Up!! Each week I share My Weekly Wrap Up of everything Book related (reviews,books purchased,won etc..). Each picture is linked for your convenience. All you need do is click on the cover and it will take you to the appropriate page! I'll also be linking my post up to
Stacking The Shelves
&
The Sunday Post
. So let's get to it shall we!
What you missed last week
Books received for review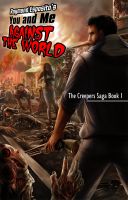 *Thank you Raymond Esposito for the copy.
*I won this back in May from Book Bite Reviews but had to wait until Publication to receive :)
As you can see its been a pretty laid back week for me. If you entered the Apocalyptic Blog Hop I'll be picking a winner later today so look out for that. As always feel free to link me to yours (Don't care which meme just like reading them) in the comments below.
Have you read any of the books I've mentioned? If so, How did you like them? If you read my reviews or leave a comment, thank you! Like what you see? Please share. I really appreciate when you do!