Book Trailer Tuesday (67) Carnival Of Souls by Melissa Marr & Teardrop by Lauren Kate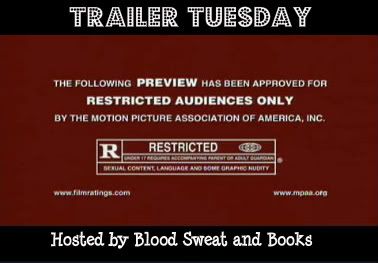 Book Trailer Tuesday is a Weekly Blog Post hosted by me at Blood Sweat and Books. Each week I choose two Book Trailers to showcase. One Trailer will be for an upcoming book and the other will be one that has already been released. This week I focus my spotlight on Carnival of Souls by Melissa Marr & Teardrop by Lauren Kate.
In a city of daimons, rigid class lines separate the powerful from the power-hungry. And at the heart of The City is the Carnival of Souls, where both murder and pleasure are offered up for sale. Once in a generation, the carnival hosts a deadly competition that allows every daimon a chance to join the ruling elite. Without the competition, Aya and Kaleb would both face bleak futures—if for different reasons. For each of them, fighting to the death is the only way to try to live.
All Mallory knows of The City is that her father—and every other witch there—fled it for a life in exile in the human world. Instead of a typical teenage life full of friends and maybe even a little romance, Mallory scans quiet streets for threats, hides herself away, and trains to be lethal. She knows it's only a matter of time until a daimon finds her and her father, so she readies herself for the inevitable.While Mallory possesses little knowledge of The City, every inhabitant of The City knows of her. There are plans for Mallory, and soon she, too, will be drawn into the decadence and danger that is the Carnival of Souls.
From Melissa Marr, bestselling author of the Wicked Lovely series and Graveminder, comes a brand-new tale of lush secrets, dark love, and the struggle to forge one's own destiny.
Expected Publication: October 22, 2013
Never, ever cry. . . . Eureka Boudreaux's mother drilled that rule into her daughter years ago. But now her mother is gone, and everywhere Eureka goes he is there: Ander, the tall, pale blond boy who seems to know things he shouldn't, who tells Eureka she is in grave danger, who comes closer to making her cry than anyone has before.
But Ander doesn't know Eureka's darkest secret: ever since her mother drowned in a freak accident, Eureka wishes she were dead, too. She has little left that she cares about, just her oldest friend, Brooks, and a strange inheritance—a locket, a letter, a mysterious stone, and an ancient book no one understands. The book contains a haunting tale about a girl who got her heart broken and cried an entire continent into the sea. Eureka is about to discover that the ancient tale is more than a story, that Ander might be telling the truth . . . and that her life has far darker undercurrents than she ever imagined. From Lauren Kate comes an epic saga of heart-stopping romance, devastating secrets, and dark magic . . . a world where everything you love can be washed away.
What do you think of the Trailers?
Have you read Carnival of Souls? If so, Would you recommend it?
Have you heard of Teardrop before? If so, Will you be reading it?
Just for fun:
Do you prefer live action or animated book trailers?
Leave your answers in the comments below, I love reading your responses!
Have a Trailer you would like showcased? Send me an
Email
. I'm always on the lookout for new book trailers to spotlight.
Like what you see? Please Share! I thank you if you do.
Want to check out past Trailer Tuesdays?
Click Here
!