Book Trailer Tuesday (70) Crater by Homer Hickam & Six by Rachel Robinson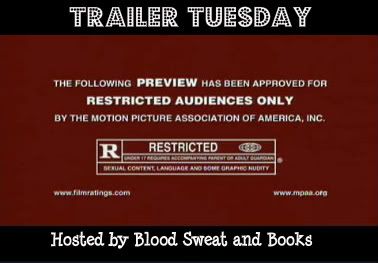 Book Trailer Tuesday is a Weekly Blog Post hosted by me at Blood Sweat and Books. Each week I choose two Book Trailers to showcase. One Trailer will be for an upcoming book and the other will be one that has already been released. This week I focus my spotlight on Crater by Homer Hickam & Six by Rachel Robinson.
A MINING COLONY ON THE MOON. A DEADLY MISSION. AND A SECRET BIGGER THAN TWO WORLDS.
It's the 22nd Century. A tough, pioneering people mine the moon for Helium-3 to produce energy for a desperate, war-torn Earth.
Sixteen-year-old Crater Trueblood loves his job as a Helium-3 miner. But when he saves a fellow miner, his life changes forever. Impressed by his heroism, the owner of the mine orders Crater to undertake a dangerous mission. Crater doubts himself, but has no choice. He must go.
With the help of Maria, the mine owner's frustrating but gorgeous granddaughter, and his gillie--a sentient and sometimes insubordinate clump of slime mold cells--Crater must fight both human and subhuman enemies. He'll battle his way across a thousand miles of deadly lunar terrain and face genetically altered super warriors in his quest to recover an astonishing object that will alter the lives of everyone on the moon.
Expected Publication: November 2013
Emmalina is an immortal darkling. A half human, half dark witch. Though she was born with all six emotions, she has arrived at her eighteenth birthday and all but one miserable emotion has fled her body.
The mission of the dark witches who control the new, darker world is simple—eradicate weakness. Weakness is summed up in one word. Emotion. Or, the six. Anger, fear, sadness, joy, surprise, and love.
The dark witches want her. She wants something else more.
She wants six.
What do you think of the Trailers?
Have you read Crater yet? If so, Would you recommend it?
Have you heard of Six? If so, Will you be reading it?
Just for fun:
If you could take a vacation on any planet in the solar system, Which planet would you visit?
Leave your answers in the comments below, I love reading your responses!
Have a Trailer you would like showcased? Send me an
Email
. I'm always on the lookout for new book trailers to spotlight.
Like what you see? Please Share! I thank you if you do.
Want to check out past Trailer Tuesdays?
Click Here
!