Book Trailer Tuesday (86) Endless Knight by Kresley Cole & The Falconer by Elizabeth May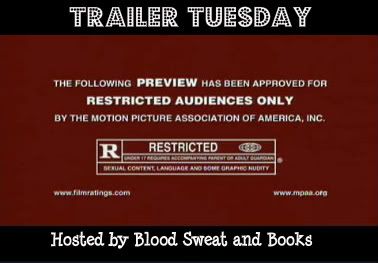 Book Trailer Tuesday is a Weekly Blog Post hosted by me at Blood Sweat and Books. Each week I choose two Book Trailers to showcase. One Trailer will be for an upcoming book and the other will be one that has already been released. This week I focus my spotlight on Endless Knight by Kresley Cole & The Falconer by Elizabeth May
Shocking secrets.
Evie has fully come into her powers as the Tarot Empress, and Jack was there to see it all. She now knows that the teens who've been reincarnated as the Tarot are in the throes of an epic battle. It's kill or be killed, and the future of mankind hangs in the balance.
Unexpected allies.
With threats lurking around every corner, Evie is forced to trust her newfound alliance. Together they must fight not only other Arcana, but also Bagmen zombies, post-apocalyptic storms, and cannibals.
Gut-wrenching treachery.
When Evie meets Death, things get even more complicated. Though falling for Jack, she's drawn to the dangerous Endless Knight as well. Somehow the Empress and Death share a history, one that Evie can't remember—but Death can't forget…
Heiress. Debutant. Murderer. A new generation of heroines has arrived.
Edinburgh, Scotland, 1844
Lady Aileana Kameron, the only daughter of the Marquess of Douglas, was destined for a life carefully planned around Edinburgh's social events – right up until a faery killed her mother.
Now it's the 1844 winter season and Aileana slaughters faeries in secret, in between the endless round of parties, tea and balls. Armed with modified percussion pistols and explosives, she sheds her aristocratic facade every night to go hunting. She's determined to track down the faery who murdered her mother, and to destroy any who prey on humans in the city's many dark alleyways.
But the balance between high society and her private war is a delicate one, and as the fae infiltrate the ballroom and Aileana's father returns home, she has decisions to make. How much is she willing to lose – and just how far will Aileana go for revenge?
__________________________________________
What do you think of the Trailers?
Have you read Endless Knight? If so, Did you enjoy it?
Will you be picking up The Falconer when it releases next month?
Just for fun:
Which time period featured above would you like to live in?
Leave your answers in the comments below, I love reading your responses!
Have a Trailer you would like showcased? Send me an
Email
. I'm always on the lookout for new book trailers to spotlight.
Like what you see? Please Share! I thank you if you do.