Book Trailer Tuesday (89) Carnelian by B. Kristin McMichael & The Good Girl by Mary Kubica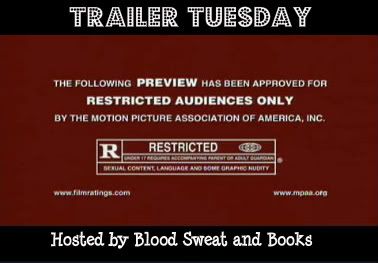 Book Trailer Tuesday is a Weekly Blog Post hosted by me at Blood Sweat and Books. Each week I choose two Book Trailers to showcase. One Trailer will be for an upcoming book and the other will be one that has already been released. This week I focus my spotlight on Carnelian by B. Kristin McMichael & The Good Girl by Mary Kubica.
Everyone has a past, but for most it isn't as long ago as Seth Sangre. His past is literally thousands of years ago. Seth's life led him to the present seeking something that might help him save his country from destruction. He has been in the present for over three years now and just found exactly what he has been looking for.
Mari had dreams that college will be a fresh start, one where she would start over and not fall for the good looking player like high school. Unfortunately for her, that's exactly what ends up falling into her lap on the first day she moves into the dorms. Now she has to hold to her promise to herself and not fall for the handsome Seth. But he doesn't plan to make it easy for her. Seth has already marked her as his next conquest. As the semester progresses, Mari learns that Seth might just have a life of his own that's actually from the past. Suddenly Mari finds her future along with her past put into question. She's connected to Seth far more than she ever wanted to be and maybe the player isn't who she thought he was. If Mari can trust her heart enough to follow him, Seth will lead Mari on an adventure of a lifetime and reveal family secrets she never knew existed.
"I've been following her for the past few days. I know where she buys her groceries, where she has her dry cleaning done, where she works. I don't know the color of her eyes or what they look like when she's scared. But I will."
Born to a prominent Chicago judge and his stifled socialite wife, Mia Dennett moves against the grain as a young inner-city art teacher. One night, Mia enters a bar to meet her on-again, off-again boyfriend. But when he doesn't show, she unwisely leaves with an enigmatic stranger. With his smooth moves and modest wit, at first Colin Thatcher seems like a safe one-night stand. But following Colin home will turn out to be the worst mistake of Mia's life.
Colin's job was to abduct Mia as part of a wild extortion plot and deliver her to his employers. But the plan takes an unexpected turn when Colin suddenly decides to hide Mia in a secluded cabin in rural Minnesota, evading the police and his deadly superiors. Mia's mother, Eve, and detective Gabe Hoffman will stop at nothing to find them, but no one could have predicted the emotional entanglements that eventually cause this family's world to shatter.
An addictively suspenseful and tautly written thriller, The Good Girl is a compulsive debut that reveals how even in the perfect family, nothing is as it seems…
__________________________________________
What do you think of the Trailers?
Have you read Carnelian yet? If so, Did you enjoy it?
Will you be picking up The Good Girl when it releases in July?
Just for fun:
One night stands yay or nay?
Leave your answers in the comments below, I love reading your responses!
Have a Trailer you would like showcased? Send me an
Email
. I'm always on the lookout for new book trailers to spotlight.
Like what you see? Please Share! I thank you if you