Early Review: The Burnouts (Quarantine #3) by Lex Thomas
Author: Lex Thomas
Series: Quarantine #3
Genre: Survival, Young Adult, Horror
Publisher: Egmont USA
Expected Publication: July 22, 2014
When an explosion rocks David and Will's suburban high school one morning, a deadly virus is unleashed on the school. After a year of quarantine, with no adults around, the students have created their own society. All of the social cliques have developed into gangs-The Nerds, The Geeks, The Freaks, The Sluts, The Skaters, The Burnouts, The Pretty Ones, and The Varsity-and each gang provides a service with which they can barter for provisions. Without a gang, it's almost impossible to secure food, water, territory, or supplies. In the final installment in the Quarantine trilogy, the brothers are reunited on the Outside and it appears as if, for once everything is going right. But inside the school, Lucy is alone with no gang and no hope, until the Burnouts welcome her into their filthy arms.
Review
Quarantine: The Burnouts is the third and final book in the Quarantine series. To say I was excited to see how it would all wrap up is an understatement. In fact, The Burnouts was one of my most anticipated books of the year. Yet, with great expectation great disappointment sometimes follows. It's not that I disliked The Burnouts it's just I expected so much more not only from the plot but the characters as well.
My first issue right off the bat with The Burnouts had to be the story. For the first time I actually could tell this was written by two separate Authors and that was a problem for me. I felt like the plot was jumping all over the place instead of being presented as one cohesive whole.
Which brings me to issue Number 2. I really was angry that some characters were disposed of so easily. I wanted to see Hilary suffer some for all the cruelty she rained down upon others. Sure she was "humiliated" some but that didn't really give the satisfaction level I was wanting after watching her torment her fellow peers for years. Then you have Violent. OK, sure, I really wasn't expecting her to survive the trauma she endured but her death felt like it only happened as a way to get Lucy back into the chaos of things and thus have the plot be about some daring rescue of a piece of ass to be fought over by David and Will (not sorry either as that is really all she became) instead of following through with the promise of finding a way to cure and rescue all those still trapped inside. Pretty much the entire last book became about Lucy and I didn't like that one bit. Don't get me wrong, I liked Lucy as a character and wanted her to survive but we were finally outside which is what I had been craving for so long and then boom Lucy is in trouble so nope got to head back inside that blasted school once again.
Which brings me to my last and biggest issue with The Burnouts, the ending! Everything in the past two years was building up to this big climax and when it's revealed and then executed pretty much all that happened felt like a waste of time. In fact, it seemed that the entire story fell apart once they headed back inside. Rather than give this series the proper ending it and the characters deserved it instead read like the Authors were bored with the story and just wanted it over with as quickly as possible. Honestly, I really can't express how much I hated the ending of the story. Plus poor Will, he didn't deserve that send out. Especially not after everything he went through to save himself and the girl he loved. Oh and don't even get me started on the meaning of that last line of the story which basically screamed Will was never worthy of anything except being the catalyst to David and Lucy's eventual bliss.
Now despite my many issues to the contrary The Burnouts wasn't all bad. It wasn't great, but I did enjoy some parts of the story at least enough to continue reading.
First off, I really liked seeing the parents again. It might have been fleeting but we did at least see that they really were trying to do anything and everything to protect those kids from those who would want nothing more than to see them dead.
Secondly, I really was happy that the story did at least show what happened to some of the kids who "Graduated". Not all mind you but some and I guess that was better than the nothing I was expecting based on how things were going.
Lastly, even though I hated being back inside it was at the very least nice to see that the Author didn't forget about those characters that we hadn't really seen much of in previous books. Seeing more of the person Bile was and meeting the other Burnouts and Crazies was interesting even if I wrinkled my nose in disgust at how exactly they were able to remain high without conventional methods of doing so.
Final Thoughts
In all honesty, I am sad to see this series end. I just wish it was with as much praise and excitement as the previous books garnered instead of the less than stellar review I'm having to write today. Do I recommend reading The Burnouts? Yes, however unless you're buying to finish a collection stick to borrowing this one from a friend or library before purchasing.
With that being said, I'll be rating Quarantine: The Burnouts by Lex Thomas ★★★.
*Copy reviewed provided by Edelweiss. All opinions are my own and I was not compensated in any which way for providing them.
About the Author(s)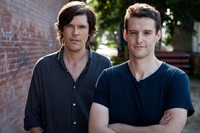 Lex Thomas is the pen name for the writing team of Lex Hrabe and Thomas Voorhies. Their first novel, QUARANTINE: THE LONERS, earned a starred review from Booklist, and Huffington Post Books praised it, saying, "You will not be able to put this book down."
Lex received a BA in Drama and English from the University of Virginia and has worked as an actor, director and writer. Thomas graduated with a Bachelors of Fine Arts from the Rhode Island School of Design, and now writes, and exhibits his realist oil paintings in Los Angeles.
Lex and Thomas met in a writers' group in Los Angeles. Their friendship developed as they tried to blow each other's minds with clips from bizarre movies. In 2005, they became a screenwriting team, and found that writing with a friend is much more fun than doing it alone.
Visit them at
www.lex-thomas.com
.
@lexthomasauthor
Goodreads
Facebook
If you would like to read my review of Quarantine: The Loners you may do so by clicking
here
!
If you would like to read my review of Quarantine: The Saints you may do so by clicking
here
!