Review: The Walled City by Ryan Graudin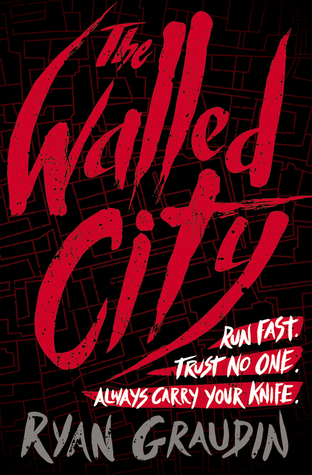 Author: Ryan Graudin
Genre: Young Adult
Publisher: Little, Brown
Expected Publication: November 4, 2014
Links:
Goodreads
Barnes & Noble
There are three rules in the Walled City: Run fast. Trust no one. Always carry your knife. Right now, my life depends completely on the first. Run, run, run.
Jin, Mei Yee, and Dai all live in the Walled City, a lawless labyrinth run by crime lords and overrun by street gangs. Teens there run drugs or work in brothels—or, like Jin, hide under the radar. But when Dai offers Jin a chance to find her lost sister, Mei Yee, she begins a breathtaking race against the clock to escape the Walled City itself.
Review
There are three rules in the Walled City: Run fast. Trust no one. Always carry your knife. Right now, my life depends completely on the first. Run, run, run.
The Walled City tells the story of a girl named Jin who under the guise of being a man enters the seedy underbelly of Hong Kong's infamous Walled City to search for her sister Mei Yee whose been sold to a whorehouse within its borders. Enter Dai, he too is seeking information within the city and when he meets Jin he finally thinks he has a shot at obtaining it. Little do they realize that their lives are about to become more entwined than either of them could imagine and with the clock ticking and time running out, they'll have to act fast to save those they love before the walls come crashing down around them.
To put it bluntly, The Walled City was a brilliant piece of young adult fiction. Blending the beauty and elegance of Memoirs of a Geisha by Arthur Golden with the cut throat world of Legend by Marie Lu, Ryan Graudin created a story unlike any I'd read in the past. Now I will say that The Walled City is not for the faint at heart. The story tackles under age prostitution, enslavement, human trafficking, addiction and murder for hire and yet despite all these things, I could not put it down.
One of the things I rather loved about the story was how the narratives interconnected. I didn't feel like I was reading a split narrative book because they all flowed so easily into each other. It was almost like I was watching a movie instead of reading a book. Yes, the writing was that good.
Another thing I found refreshing was the romance. While love is the central theme of the story the romantic lives of all those involved takes a much needed backseat to the goings on of the characters lives instead. Now that's not to say no romance exists in The Walled City since we do have hints of one character falling in love with another. I'm just saying it doesn't dominate the story as one might expect. I personally found this refreshing because in most young adult fiction these days it is common to see the main narrators paired together predictably by book or series end and rather than follow that same pattern the Author took her characters in another direction entirely and I liked that.

Now although I truly did love The Walled City it did have one minor flaw that I feel I should note. When I started reading The Walled City, I went into it thinking that it would read as a typical Dystopian thus I expected to have a certain amount of world building associated with that. Instead, throughout the story the author writes like we should know the places she's describing vs. explaining to us how this walled city came to be. Throughout the entire story I kept waiting for this big information bomb to drop yet right up until the end it never did. Had I know upfront that the story was based in the very real place of Kowloon City things probably would've made much more sense and my enjoyment level would've ended up being just that little bit higher.
Final Thoughts
The Walled City was a breathtaking if not beautifully broken book and one I'm truly happy to have read. I highly recommend adding this one to your TBR's if you haven't done so already because trust me, this will be one everyone will be talking about once it releases.

With that being said, I'll be rating The Walled City by Ryan Graudin
★
★★
★★
.
*Copy reviewed provided by publisher. All opinions are my own and I was not compensated in an which way for providing them.
About the Author
Hello! I'm Ryan. This is me in a nutshell.
27.
Writer.
Traveler.
Believer.
Sherlock Whovian Browncoat.
Wife to a talented and handsome photographer.
Mother to a fluffy and winsome wolf-dog.
Drinks Chai Lattes.
Loves vintage Christmas lights.
Ryan Graudin grew up in Charleston and graduated from the College of Charleston with a degree in Creative Writing in 2009. She is the author of All That Glows and The Walled City. She resides near Charleston with her husband and wolf-dog. You can find her online at
www.ryangraudin.com
.