Freebie Friday (71) Free Young Adult - Paranormal, Fantasy, Adult - Non-Fiction & Thriller E-Books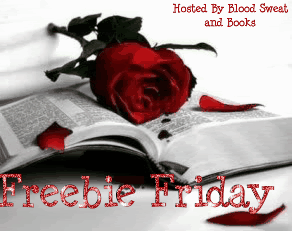 It's time for another edition of Freebie Friday! Each week I compile a list of books that I've found for FREE and share them with all of you! All you have to do is click on the title and it will take you to the purchase page for that book. Unless noted all books are first in the series.
Young Adult
(Paranormal, Fantasy)
Demons at Deadnight
by A & E Kirk [
Purchase
]
For seventeen-year-old Aurora Lahey, survival is a lifestyle.
DEMONIC DESTINY
Aurora has the crappiest superpower on the planet. And it's just unleashed a hit squad from hell. Demons are on the hunt, salivating to carve her carcass into confetti.
CHARISMATIC KILLERS
The Hex Boys--mysterious, hunky, and notorious for their trails of destruction--have the answers Aurora needs to survive. But their overload of deadly secrets and suspicious motives makes trusting them a potentially fatal move.
LETHAL ALLIES
The battle to save her family, herself, and stop demonic domination may cost Aurora everything worth living for, and force her to reveal her own dark secrets. But no worries. She needs the Hex Boys to pull this off, and, chances are, teaming up with these guys will get her killed anyway.
Silver White
by Shawn Underhill [
Purchase
]
Evie's family has been holding out on her …
Big time.
On an unexpected visit to her grandparents' house in New Hampshire's secluded North Woods, the sixteen-year-old literally runs into the truth of the long-hidden family secrets, and finds herself thrust without warning into the clandestine world of the Great North Pack—a wild and exhilarating world of rugged beauty, heart-pounding adventures, and long nights running under a sea of stars … but as she's set to discover, a world also fraught with potential dangers lurking in the shadows.
Intangible
by C.A. Gray [
Purchase
]
Peter Stewart grew up on a unique version of the Arthurian legends taught him by his father, a harebrained quantum physicist who asserts that anything is possible. But Peter disbelieves anything which cannot be scientifically explained, despite a nagging sense that there is more to the world than meets the eye.
Lily Portman is an orphan with a secret: she can see creatures that are invisible to everyone else. These creatures control every human being she has ever met to varying degrees... until she meets Peter and his father.
When a mysterious stranger stages an accident which nearly costs Peter and Lily their lives, suddenly Lily learns that she is not crazy after all, and Peter discovers the truth of his father's stories… including the existence of Arthur's ancient nemesis, one who calls himself the Shadow Lord, and a prophecy with implications so profound that it will alter not only the course of their lives, but potentially the fate of the world.
The Chronicles of Fire and Ice
by L.L. Hunter [
Purchase
]
Archangels are extinct and the world is now inhabited by a half-human/half-angel race called Nephilim. But it's been told that one Archangel remains – a child born of fire only known as The Legend.
21-year-old Nephilim Scarlett Porter is about to start her Angel training at the infamous Blackbell Academy, so she doesn't have time to worry about dreams of mysterious dark angels. The last thing she expected was her dream angel to be Dyston Blackbell or that finding her was part of his mission – a mission Dyston is prepared to fail to keep Scarlett and the secret of who she is safe.
But, danger is closer to Dyston and Scarlett than they realize.
War is brewing, led by a group of Nephilim called The Lucifites, and they need The Legend to carry out their plans. With the help of their friends, the two must find the leader of the Lucifites and stop his plans for destruction. But will Dyston and Scarlett's love survive what's coming? How far will Scarlett go to save those she cares about the most?
Dark Promise
by Julia Crane & Talia Jager [
Purchase
]
Rylie has it all - great friends, dream boy, loving family. But on the eve of her sixteenth birthday, her perfect little world shatters. A stranger claiming to be her real mother appears with a secret: Rylie is a faery whose powers will be unleashed on her birthday. Captured and forced into a new life, Rylie struggles to keep everything she loves and discovers a terrifying truth: some promises cannot be broken.
Adult
(Non-Fiction, Thriller)
Lost in Shangri-La
by Mark Zuckoff [
Purchase
]
"A lost world, man-eating tribesmen, lush andimpenetrable jungles, stranded American fliers (one of them a dame withgreat gams, for heaven's sake), a startling rescue mission. . . . This is atrue story made in heaven for a writer as talented as Mitchell Zuckoff. Whew—what an utterly compelling and deeplysatisfying read!" —Simon Winchester, author of Atlantic
Award-winning former Boston Globe reporter Mitchell Zuckoffunleashes the exhilarating, untold story of an extraordinary World War IIrescue mission, where a plane crash in the South Pacific plunged a trio of U.S.military personnel into a land that time forgot. Fans of Hampton Sides' Ghost Soldiers, Marcus Luttrell's Lone Survivor, and David Grann's The Lost Cityof Z will be captivated by Zuckoff's masterfullyrecounted, all-true story of danger, daring, determination, and discovery injungle-clad New Guinea during the final days of WWII.
Splicer
by Theo Cage [
Purchase
]
A billionaire geneticist is found garroted in the parking lot of an exclusive business club. The prime suspect is a former employee who quickly lawyers up with one of the hottest criminal defenders in the city – pugnacious and troubled Janey McEwan. She soon becomes embroiled in a battle between a crack team of professional killers, the CIA and her penniless client – who she happens to be falling in love with. The deadly struggle is over a new technology called The Splicer - a desktop unit that would give users unprecedented power to manipulate DNA. In a matter of hours, a terrorist could build a new virus, create a deadly new disease or completely modify human engineering. With a few screen touches, it would be possible to create a monster with the potential to kill millions. The CIA calls this new invention the "Frankenstein app" - and they will stop at nothing to prevent it's spread.
The story reaches it's dark climax on a craggy mountain in the wilds of Canada – the doomsday retreat of a shadowy CIA legend – a place they call Ragnarock.
Twenty-Eight and a Half Wishes
by Denise Grover Swank [
Purchase
]
For Rose Gardner, working at the DMV on a Friday afternoon is bad even before she sees a vision of herself dead. She's had plenty of visions, usually boring ones like someone's toilet's overflowed, but she's never seen one of herself before. When her overbearing momma winds up murdered on her sofa instead, two things are certain: There isn't enough hydrogen peroxide in the state of Arkansas to get that stain out, and Rose is the prime suspect.
Rose realizes she's wasted twenty-four years of living and makes a list on the back of a Wal-Mart receipt: twenty-eight things she wants to accomplish before her vision comes true. She's well on her way with the help of her next door neighbor Joe, who has no trouble teaching Rose the rules of drinking, but won't help with number fifteen-- do more with a man. Joe's new to town, but it doesn't take a vision for Rose to realize he's got plenty secrets of his own.
Somebody thinks Rose has something they want and they'll do anything to get it. Her house is broken into, someone else she knows is murdered, and suddenly, dying a virgin in the Fenton County jail isn't her biggest worry after all.
-----------------------------------------------
*Though free at time of posting, please verify that the "Kindle Price" is actually $0.00. If you see a price for "Prime Members" or "read for free", then the book is NOT free any longer. Please leave a comment if you notice this so I can replace with another :)

*Authors Have an upcoming book that will be FREE let me know, I'd love to feature your work in my post.