Waiting On Wednesday (114) Crimson Bound by Rosamund Hodge & Blood and Salt by Kim Liggett
Waiting On Wednesday is a weekly blog post hosted by Breaking The Spine where readers showcase which books they are highly anticipating. This week I'm turning my spotlight on Crimson Bound by Rosamund Hodge & Blood and Salt by Kim Liggett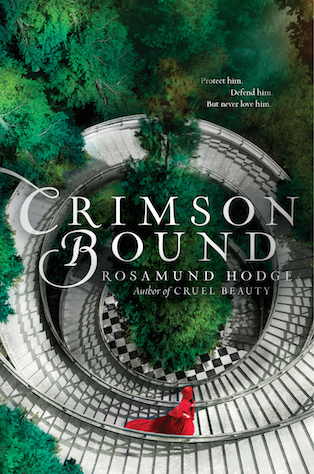 Expected Publication:
May 5, 2015 from Balzer + Bray
When Rachelle was fifteen she was good—apprenticed to her aunt and in training to protect her village from dark magic. But she was also reckless— straying from the forest path in search of a way to free her world from the threat of eternal darkness. After an illicit meeting goes dreadfully wrong, Rachelle is forced to make a terrible choice that binds her to the very evil she had hoped to defeat.
Three years later, Rachelle has given her life to serving the realm, fighting deadly creatures in an effort to atone. When the king orders her to guard his son Armand—the man she hates most—Rachelle forces Armand to help her find the legendary sword that might save their world. As the two become unexpected allies, they uncover far-reaching conspiracies, hidden magic, and a love that may be their undoing. In a palace built on unbelievable wealth and dangerous secrets, can Rachelle discover the truth and stop the fall of endless night?
____________________________________
Although this is a stand alone novel separate from Cruel Beauty I'm still very excited to read this one. Plus it's a retelling of Red Riding Hood which is one of my favorites so I can't wait to see her spin on that tale.
______________________________
Expected Publication:
2015 from Putnam
Romeo and Juliet meets Children of the Corn.
"When you fall in love, you will carve out your heart and throw it into the deepest ocean. You will be all in—blood and salt."
These are the last words seventeen year-old Ash Larkin hears before her mother flees their home in New York City to rejoin the spiritual commune she escaped long ago. Determined to get her back, Ash follows her to Quivira, Kansas to unravel their family legends of alchemy, immortality, and revenge.
But something sinister and ancient waits for Ash among the rustling cornstalks of this small village lost to time. As charming traditions give way to cult ceremonies and a string of gruesome deaths, Ash begins to feel things she never thought possible. A new and seductive power pulses through her veins as her very blood reaches for an achingly beautiful boy she can't have, harkening back to the town's centuries-old tales of unrequited love and death.
As the community prepares for a ceremony over five hundred years in the making, Ash must fight not only to save her mother, but herself. She's desperate to discover the truth about Quivira before it's too late. Before she's all in—blood and salt.
____________________________________
As soon as I read that this novel was like a mash-up of Children of the Corn and Romeo and Juliet I knew I needed to read this book! First off, what a bold move matching up two very beloved stories in their own right but also on the other hand you simply don't see much YA mashing up with Stephen King so it will be really interesting to see how she pulls that off. I only hope it has an early release date in 2015, I don't think I can wait an entire year to read this one!
______________________________
Since I'm curious, Have you heard of these books before?
If so, Do you plan on reading them?
Sound off in the comments below. I love to read your responses.
That about wraps up my Waiting On Wednesday for this week. Feel free to leave a link to your Wednesday memes in the comments below, I love finding new books to read. Like what you see? Please share!