Freebie Friday (76) Free Science Fiction, Fantasy, Young Adult & Paranormal Romance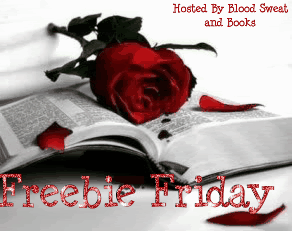 It's time for another edition of Freebie Friday! Each week I compile a list of books that I've found for FREE and share them with all of you! All you have to do is click on the title and it will take you to the purchase page for that book. Unless noted all books are first in the series.
Science Fiction & Fantasy
Unleashed
by Rachel McClellan [
Purchase
]
Seventeen-year-old Claire Williams' tough upbringing has taught her how to throw a punch or two to survive, especially when it involves a man's unwanted attention. But her strength waivers when she visits Bodian Dynamics, a medical research facility, and stumbles upon classified information—someone has stolen a drug that not only changes a person's appearance, but also unleashes the darkest, most evil part of their inner psyche.
After an intimidating security guard threatens the lives of her friends if she speaks to anyone about the incident, Claire pretends the drug never existed. But when she finds a dead girl in her school and is attacked herself, she thinks the events are connected. Especially when she meets Gage, a teenage boy who doesn't seem to have a conscience and who is hell-bent on making her just like him by unleashing her dark side.
The police try to catch Gage, but his increased strength and speed, a side effect from the drug, make him impossible to kill. But Claire knows a secret—he can only die while in his normal state. And since Gage knows personal information about her, Claire thinks she knows who it is: either her best friend or her recent boyfriend. But this doesn't change Claire's resolve. Gage has backed her into a corner so Claire does what she does best: fights. And once she figures out which boy Gage is hiding behind, she's going to kill him, even if it breaks her heart.
The Phoenix Project (The Phoenix Project #1)
by M.R. Pritchard [
Purchase
]
Andie Somers has finally found a perfectly balanced life. After leaving her high pressure position in a genetic research lab, she's now found solace in nursing. Too bad the balance doesn't last long. One night Andie's life is thrown off kilter when a suspected seismic event occurs.
Now, Andie is going home to find her family, even if that means escaping a hospital on lockdown and abandoning some of the city's most critical patients. She may never work as a nurse again but she doesn't dwell on that thought for long when she can't reach her husband and daughter. There is one thing on her mind and that is to get home.
Fleeing a city that's been thrust into chaos isn't easy, and since it seems most things electronic no longer work, including every vehicle around her, Andie makes the decision to walk the forty miles north to her home. She meets Adam on the highway. Running into a Phoenix local wasn't in her plan, but two heads are better than one and with the havoc surrounding them what better partner to have at her side than one with a military background?
If only she had forewarning to the secrets Adam harbors. Andie's life is about to change forever. She thought making it home was the hard part, but getting there is just the beginning.
The Reformation (The Phoenix Project #2)
by M.R. Pritchard [
Purchase
]
Trying to escape from the Phoenix District got Andie two things, a broken arm and a broken spirit. While Andie feels like she might be losing it, she has a bit of hope to hold onto. Everyone else in her family may have been taken away from her or have gone missing, but she has Lina. So she's going to do what Burton Crane ordered her to do and genetically alter the Residents brains so they're the cooperative, docile humans he requested.
While analyzing the Residents' genetic data, Andie finds that there's more than one District. And while Andie tries to hold on tight to the few things she has control over, Crane has one last surprise for her.
This is the Reformation. Society has been fractured and this is just the beginning of changes to come.
Young Adult (Paranormal Romance, Fantasy)
Saratoga
by M.R. Pritchard [
Purchase
]
Demi knows she is far from normal. She can feel it every time she walks near a park, or a tree, or a flower. She has a gift-or a curse; green things call to her. They tug at her soul and she has no idea how to control it. But Demi has it all figured out. She's going to be a ballerina just like her mother wants. And since the dance studio is the only place she feels like she fits in, it's the perfect plan. That is, until she meets Dylan, a boy with a similar gift. Dylan shows Demi the path to discovering who she is and what fate holds for each of them.
Unresisting
by Shane Morgan [
Purchase
]
Seventeen-year-old Natasha Johnson is having a rough year. Her twin brother, Sean, died last spring after a car crash, and her parents have decided to pack up and leave the only home she'd ever known. It's been a lot to take in, and Nat has decidedly given up on the world... until moving to Stetson Valley and meeting high school outcast: Chace Owens.
Chace's dark and mysterious aura is not exactly seen as 'normal', but Nat already knows that not a lot of things are of the norm when it comes to her life. She soon finds herself unable to escape Chace's strange pull on her heart, unleashing a sudden attraction to the unnatural forces that have always been burning within her. But uncovering her true self brings forth great danger, as Nat learns that her brother's death had a lot more to do with the side she's now unable to resist.
Dream Student
by J.J. DiBenedetto [
Purchase
]
What would you do if you could see other people's dreams? If you could watch their hidden fantasies and uncover their deepest, darkest secrets…without them ever knowing?
Sara Barnes is about to find out. She thought that all she had to worry about was final exams, Christmas shopping and deciding whether she likes the cute freshman in the next dorm who's got a crush on her.
But when she starts seeing dreams that aren't hers, she learns more than she ever wanted to know about her friends, her classmates…and a strange, terrifying man whose dreams could get Sara killed.
Pawn
by Sophie Davis [
Purchase
]
Dreams and Nightmares,
Screams and Sighs,
Fate Wakes the Girl
And Says She Dies....
When the Boy Gets in the Way,
Then the Nightmares Come to Play...
For her eighteenth birthday, Endora Lee Andrews receives the gift of dreams. Nighttime slumber brings her visions of the future, a preview of things to come. Endora's unsettling new ability is seemingly harmless, until her dreams turn to nightmares.
When she meets the mysterious and swoon-worthy Kannon, he knows things about her that he can't possibly know, and seems to be the key to uncovering the source of her ominous prophecies. But Kannon has many secrets, some the essential difference between life and death for Endora.
Can she discover the origins of her nightmares and how to prevent destiny, before the harbingers of death come for her?
*Though free at time of posting, please verify that the "Kindle Price" is actually $0.00. If you see a price for "Prime Members" or "read for free", then the book is NOT free any longer. Please leave a comment if you notice this so I can replace with another :)
*Authors Have an upcoming book that will be FREE let me know, I'd love to feature your work in my post.