Book Trailer Tuesday (107) Lies Beneath by Anne Greenwood Brown & Undertow by Michael Buckley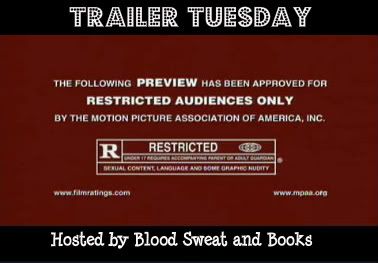 Book Trailer Tuesday is a Weekly Blog Post hosted by me at Blood Sweat and Books. Each week I choose two Book Trailers to showcase. One Trailer will be for an upcoming book and the other will be one that has already been released. This week I focus my spotlight on Lies Beneath by Anne Greenwood Brown & Undertow by Michael Buckley
Calder White lives in the cold, clear waters of Lake Superior, the only brother in a family of murderous mermaids. To survive, Calder and his sisters prey on humans and absorb their positive energy. Usually, they select their victims at random, but this time around, the underwater clan chooses its target for a reason: revenge. They want to kill Jason Hancock, the man they blame for their mother's death.
It's going to take a concerted effort to lure the aquaphobic Hancock onto the water. Calder's job is to gain Hancock's trust by getting close to his family. Relying on his irresistible good looks and charm, Calder sets out to seduce Hancock's daughter Lily. Easy enough, but Calder screws everything up by falling in love--just as Lily starts to suspect there's more to the monster-in-the-lake legends than she ever imagined, and just as the mermaids threaten to take matters into their own hands, forcing Calder to choose between them and the girl he loves.
One thing's for sure: whatever Calder decides, the outcome won't be pretty.
Sixteen-year-old Lyric Walker's life is forever changed when she witnesses the arrival of 30,000 Alpha, a five-nation race of ocean-dwelling warriors, on her beach in Coney Island. The world's initial wonder and awe over the Alpha quickly turns ugly and paranoid and violent, and Lyric's small town transforms into a military zone with humans on one side and Alpha on the other. When Lyric is recruited to help the crown prince, a boy named Fathom, assimilate, she begins to fall for him. But their love is a dangerous one, and there are forces on both sides working to keep them apart. Only, what if the Alpha are not actually the enemy? What if they are in fact humanity's only hope of survival? Because the real enemy is coming. And it's more terrifying than anything the world has ever seen.
__________________________________________
What do you think of the Trailers?
Have you read Lies Beneath yet
? If so, How did you like it?
Will you be picking up Undertow once it releases
?
Just for fun:
Would you want to be a mer person if it meant being viewed as a villain
?
Leave your answers in the comments below, I love reading your responses!
Have a Trailer you would like showcased? Send me an
Email
. I'm always on the lookout for new book trailers to spotlight.
Like what you see? Please Share! I thank you if you