Book Trailer Tuesday (110) Survive the Night by Danielle Vega & After the Red Rain by Barry Lyga, Peter Facinelli & Rob DeFranco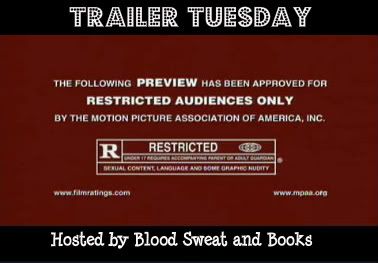 Book Trailer Tuesday is a Weekly Blog Post hosted by me at Blood Sweat and Books. Each week I choose two Book Trailers to showcase. One Trailer will be for an upcoming book and the other will be one that has already been released. This week I focus my spotlight on Survive the Night by Danielle Vega and After the Red Rain by Barry Lyga, Peter Facinelli & Rob DeFranco.
Julie lies dead and disemboweled in a dank, black subway tunnel, red-eyed rats nibbling at her fingers. Her friends think she's just off with some guy—no one could hear her getting torn apart over the sound of pulsing music.
In a tunnel nearby, Casey regrets coming to Survive the Night, the all-night underground rave in the New York City subway. Her best friend Shana talked her into it, even though Casey just got out of rehab. Alone and lost in the dark, creepy tunnels, Casey doesn't think Survive the Night could get any worse . . .
. . . until she comes across Julie's body, and the party turns deadly.
Desperate for help, Casey and her friends find themselves running through the putrid subway system, searching for a way out. But every manhole is sealed shut, and every noise echoes eerily in the dark, reminding them they're not alone.
They're being hunted.
Trapped underground with someone—or something—out to get them, Casey can't help but listen to her friend's terrified refrain: "We're all gonna die down here. . . ."
On the ruined planet Earth, where 50 billion people are confined to megacities and resources are scarce, Deedra has been handed a bleak and mundane existence by the Magistrate she works so hard for. But one day she comes across a beautiful boy named Rose struggling to cross the river--a boy with a secretive past and special abilities, who is somehow able to find comfort and life from their dying planet.
But just as the two form a bond, it is quickly torn apart after the Magistrate's son is murdered and Rose becomes the prime suspect. Little do Deedra and Rose know how much their relationship will affect the fate of everyone who lives on the planet.
__________________________________________
What do you think of the Trailers?
Have you read Survive the Night yet
? If so, How scary was it?
Will you be picking up After the Red Rain today or in the near future
?
Strictly out of curiosity:
What do you think the red rain consists of
?
Leave your answers in the comments below, I love reading your responses!
Have a Trailer you would like showcased? Send me an
Email
. I'm always on the lookout for new book trailers to spotlight. Like what you see? Please Share! I thank you if you