Waiting On Wednesday (129) My Lady Jane by Cynthia Hand, Brodi Ashton and Jodi Meadows
Waiting On Wednesday is a weekly blog post hosted by
Breaking The Spine
where readers showcase which books they are highly anticipating. This week I'm turning my spotlight on
My Lady Jane by Cynthia Hand, Brodi Ashton and Jodi Meadows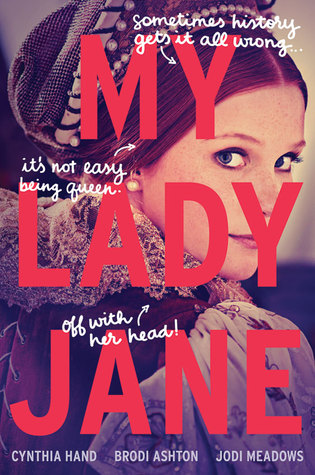 Expected Publication:
June 7, 2016 from Harper Teen
For fans of The Princess Bride comes the comical, fantastical, romantical, (not) entirely true story of Lady Jane Grey.
Lady Jane Grey, sixteen, is about to be married to a total stranger—and caught up in an insidious plot to rob her cousin, King Edward, of his throne. But that's the least of Jane's problems. She's about to become Queen of England. Like that could go wrong.
___________________________________
Lady Jane Grey has one of the most tragic stories in history so it will be really interesting to see how the authors can make this Princess Bride esque while still staying truthful to who she was. Unless of course the only likeness to her is in name. I can accept that if that is the case but I hope we do get some truths within the story as well. No matter, I am really excited for this one and I can't wait for next summer so I can get my greedy paws on a copy of it.
______________________________
Since I'm curious, Have you heard of My Lady Jane before?
If so, Do you plan on reading it?
Sound off in the comments below. I love to read your responses.
That about wraps up my Waiting On Wednesday for this week. Feel free to leave a link to your Wednesday memes in the comments below, I love finding new books to read. Like what you see? Please share!