Zurvival Saturday (56) Zombie Apocalypse Fictional Characters Survival Team Pt. 1

For this weeks Zurvival Saturday I want to share my Fictional Characters Zombie Apocalypse Survival Team. If you recall I shared my
Zombie Apocalypse Celebrity Survival Team
a few weeks back. Afterwards it brought up the discussion of Fictional Characters I'd want on mine. Since I found out that I had quite a few I'm going to be breaking this up into 2 parts. Part 1. which I'll be sharing today will be Fictional Characters from books and Part 2. which I will share down the road will be Fictional Characters from TV&Film. So without to much further ado and in no particular order here are my Top 5 Fictional Characters I'd want on my Zombie Apocalypse Survival Team!
1.
Leon S. Kennedy
- First introduced in
City Of The Dead
by S.D. Perry Leon is one bad ass MTF. Not only is he loyal, brave and totally swoonworthy but he also can kick the crap out of some Zombie ass!!
Matthew McConaughey

as Dirk Pitt
2.
Dirk Pitt
- If you've never read Clive Cussler you're missing out. First introduced in
The Mediterranean Caper
Dirk isn't only incredibly brilliant but he knows how to rough it and survive! Plus Dirk has years of military training and that would no doubt come in super handy. Oh and I'm pretty sure he can hotwire almost any car on the planet which would be good if you needed to get out alive quickly.
Emma Watson as Hermione
3.
Hermione Granger
- Smart, Resourceful,Brave, Clever, these are just some of the words I'd use to describe Hermione. First seen in
The Sorcerer's Stone
by J. K. Rowling Hermione encapsulates everything I could ever want in a Survival team member. Also since she's a witch she could just apparate us out of harms way. I'd rather run the risk of being splinched over being eaten alive by zombies any day of the week that's for sure.
James Frain in True Blood
4.
Jackal-
Sure he's a Vampire who'd no doubt require a blood sacrifice for helping but I'd take the occasionally feeding just to have him on my team. First seen in
The Immortal Rules
by Julie Kagawa Jackal is badass to the bone. Cunning, fearless and oh so witty he would be the perfect addition to my Fictional Characters Survival Team. I've always envisioned James Frain as the perfect Jackal after seeing him as Franklin Mott in HBO's True Blood.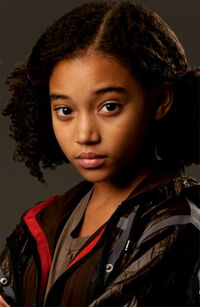 Amandla Stenberg as Rue
5.
Rue
- Agile, Cunning, Brave and Kind Rue might be young but she'll fight for you until the very end. First seen in
The Hunger Games
by Susanne Collins Rue is one of the most memorable characters I've read to date. I know I'd have an ally in Rue and also her ninja like skills would help her slip into places unnoticed by Humans and Zombies alike.
Now For This Week's Questions
Who would be on your Fictional Character ZA Survival Team?
What do you think of my choices?
Have you read any of the books mentioned above?
Leave me your responses in the comments below. I love reading them!!
-------------------------------------------------------------------------------
Well that about wraps up this weeks Zurvival Saturday. Like what you see? Please share! I thank you if you do. Want to check out past Zurvival Satuday's?
Click Here