Book Trailer Tuesday (102) Prisoner B-3087 by Alan Gratz & Revival by Stephen King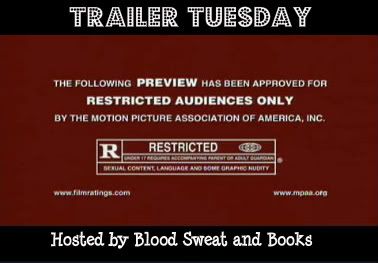 Book Trailer Tuesday is a Weekly Blog Post hosted by me at Blood Sweat and Books. Each week I choose two Book Trailers to showcase. One Trailer will be for an upcoming book and the other will be one that has already been released. This week I focus my spotlight on Prisoner B-3087 by Alan Gratz & Revival by Stephen King.
10 concentration camps.
10 different places where you are starved, tortured, and worked mercilessly.
It's something no one could imagine surviving.
But it is what Yanek Gruener has to face.
As a Jewish boy in 1930s Poland, Yanek is at the mercy of the Nazis who have taken over. Everything he has, and everyone he loves, have been snatched brutally from him. And then Yanek himself is taken prisoner -- his arm tattooed with the words PRISONER B-3087.
He is forced from one nightmarish concentration camp to another, as World War II rages all around him. He encounters evil he could have never imagined, but also sees surprising glimpses of hope amid the horror. He just barely escapes death, only to confront it again seconds later.
Can Yanek make it through the terror without losing his hope, his will -- and, most of all, his sense of who he really is inside?
A dark and electrifying novel about addiction, fanaticism, and what might exist on the other side of life.
In a small New England town, over half a century ago, a shadow falls over a small boy playing with his toy soldiers. Jamie Morton looks up to see a striking man, the new minister. Charles Jacobs, along with his beautiful wife, will transform the local church. The men and boys are all a bit in love with Mrs. Jacobs; the women and girls feel the same about Reverend Jacobs -- including Jamie's mother and beloved sister, Claire. With Jamie, the Reverend shares a deeper bond based on a secret obsession. When tragedy strikes the Jacobs family, this charismatic preacher curses God, mocks all religious belief, and is banished from the shocked town.
Jamie has demons of his own. Wed to his guitar from the age of thirteen, he plays in bands across the country, living the nomadic lifestyle of bar-band rock and roll while fleeing from his family's horrific loss. In his mid-thirties -- addicted to heroin, stranded, desperate -- Jamie meets Charles Jacobs again, with profound consequences for both men. Their bond becomes a pact beyond even the Devil's devising, and Jamie discovers that revival has many meanings.
__________________________________________
What do you think of the Trailers?
Have you read Prisoner B-3087
? If so, How did you like it?
Will you be picking up Revival today
?
Just for fun:
Which Stephen King book is your favorite
?
Leave your answers in the comments below, I love reading your responses!
Have a Trailer you would like showcased? Send me an
Email
. I'm always on the lookout for new book trailers to spotlight.
Like what you see? Please Share! I thank you if you