Review: The Coldest Girl In Coldtown by Holly Black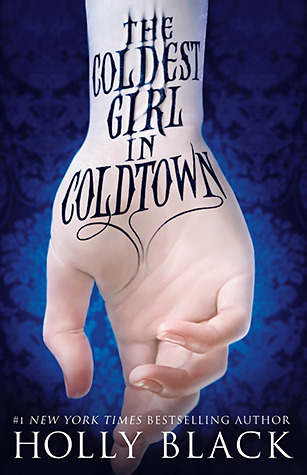 Author: Holly Black
Genre: Horror, Vampires, Young Adult
Publisher: Little, Brown Books For Young Readers
Publication: September 3, 2013
Tana lives in a world where walled cities called Coldtowns exist. In them, quarantined monsters and humans mingle in a decadently bloody mix of predator and prey. The only problem is, once you pass through Coldtown's gates, you can never leave.
One morning, after a perfectly ordinary party, Tana wakes up surrounded by corpses. The only other survivors of this massacre are her exasperatingly endearing ex-boyfriend, infected and on the edge, and a mysterious boy burdened with a terrible secret. Shaken and determined, Tana enters a race against the clock to save the three of them the only way she knows how: by going straight to the wicked, opulent heart of Coldtown itself.
Review
The Coldest Girl in Coldtown is a book I had been wanting to read since it released back in 2013. As things would have it, I just never seemed to find the time to get around to it. Needless to say, when I did, my expectations were quite high. Unfortunately, as things go sometimes, expectations vs. reality don't always match up.
One of my biggest issues with The Coldest Girl in Coldtown was the lack of originality. The book trailer for this book was amazing (View Here) and I really thought this would turn into a Humans vs. Vampires story similar to the Thirty Days of Night series just with a Young Adult Edge. Instead, the story felt more Twilight-esque with an Evernight edge. It wasn't bad per say but it also wasn't the Horror filled romp I was expecting it'd be either.
Another disappointing aspect was how much time was wasted on flash backs. Flashbacks when done right can be an integral part of the story but in this instance many just felt like filler. The only ones that I thought actually needed to be in the story were the ones between Tana and her mother, everything else was fluff and just added unnecessary length to the book. The overuse of flashbacks in this instance killed any sort of momentum built up in the preceding pages.
Lastly, I just simply didn't like Tana. She had a very flat personality and reminded me way too much of Bella from Twilight with her constant moping around. Plus I just didn't get what all the guys in the story saw in her. It's not like she was described as anything but ordinary yet all these vampires and humans flock to her like she's some special, precious, flower.
Now although I had plenty of issues with the story, it wasn't all bad. I did like the Vampire balls and learning how the humans coexisted inside the Coldtowns. However, my favorite aspect of the story was meeting the mad Vampire hunter Gavriel. Oh my, he was a pure delight and so, so, swoonworthy to boot!! I really hope we get a Novella at some point told entirely from his perspective. From the glimpses of his past shown, I bet it would be quite some story to tell!
Final Thoughts
While The Coldest Girl in Coldtown was an enjoyable read, I was disappointed in it overall. The premise of this story had so much potential to be something special but instead fell into the same pattern as other more popular books and to me that's a shame because this could've easily been a great, maybe even genre breaking read had it let itself be.

With that being said, I'll be rating The Coldest Girl In Coldtown by Holly Black ★★★.

Recommended For Fans Of: The Immortal Rules, The Night Creatures Series and The Twilight Saga.
*Copy reviewed purchased. All opinions are my own and I was not compensated in an which way for providing them.
Want to learn more about this book or Author? Click the links below!
Holly Black is a best-selling author of contemporary fantasy novels for kids, teens, and adults. She is the author of the Modern Faerie Tale series (Tithe, Valiant, and Ironside), The Spiderwick Chronicles (with Tony DiTerlizzi), and The Good Neighbors graphic novels (with Ted Naifeh) The Poison Eaters and Other Stories, a collection of short fiction, and The Curse Worker series (White Cat, Red Glove, and Black Heart). She is also the co-editor of three anthologies, Geektastic (with Cecil Castellucci), Zombies vs. Unicorns (with Justine Larbalestier), and Welcome to Bordertown (with Ellen Kushner). Her most recent works are the middle grade novel, Doll Bones, and the dark fantasy stand-alone, The Coldest Girl in Coldtown.
She lives in Massachusetts with her husband, Theo, in a house with a secret library.
Follow Holly Black on
Twitter
or visit her website
www.blackholly.com
.