Zurvival Saturday (117) Waiting On Zombies
Let's talk about Zombie books. Lately, I've noticed that while more zombie books are being produced, I don't necessarily have the urge to hunt down each one and read it. Yes, I love the genre but you can only see the same story over and over again before the pattern becomes redundant. So naturally, that means I search a bit harder and longer these days to find something really special to sink my teeth into or share with you all.
In Billy Phillips' "Once Upon a Zombie", a terrible curse has been cast upon classic fairy tale characters and their respective worlds, transforming all within into the walking dead. However, despite all that comes with being undead these princesses aren't going down easily and with the help of a girl named Caitlyn it's time for these Zombie Princesses to Rise, Empower, and Claim Their World Back!
Why I'm Waiting:
Did you not read the description above?! This story definitely puts a unique spin on the traditional zombie apocalypse and from the buzz that I've heard so far, it sounds like a winner overall. Plus, I'm always down for a book that empowers women and girls to rise above the obstacles laid before them. I secretly want to collect the dolls as well. Zombie Belle is awesome. I hope they sell them in stores soon. You can find them ----->http://www.thinkgeek.com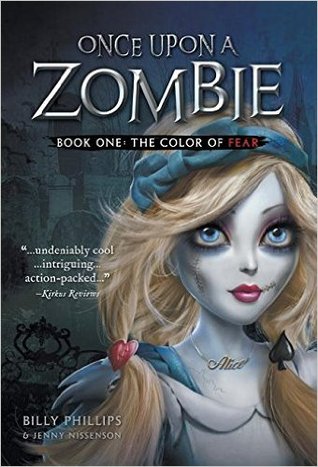 Expected Publication: October 1, 2015
Unexplainablenews.com is reporting strange phenomena in cemeteries in Scotland, Germany, Italy, and America. Only one individual knows what's happening - and why! This person also knows the one girl who can prevent an unspeakable and imminent catastrophe from taking place. But will she? When Caitlin Fletcher's mom disappeared (or left?) four years ago, Caitlin began suffering from breathless bouts of anxiety. Her new move to London, with her Dad and her brainiac sister, threatens to lead to more situations that will trigger panic. Now, she's having anxiety over the possibility of having anxiety! Caitlin's life takes a turn for the bizarre when she's tricked into climbing down a "rabbit hole", landing in a wondrous fairy tale universe - except it's crawling with savage, starving blood-eyed zombies. But what's scarier - a blood thirsty zombie, a panic attack....or the painful truth?!
---------------------------------------------------------------------------
Out of curiosity, Have you read heard of this book?
If yes, Have you added it to your TBR?
Leave me your answers in the comments below or feel free to tweet me them @Hermyoni
Well that about wraps up this weeks Zurvival Saturday. Like what you see? Please share! I thank you if you do. Want to check out past Zurvival Saturday's?
Click Here