Zurvival Saturday (119) Free Zombie E-Books

This week I have some awesome and best of all Free Zombie E-books to share with you all! All books listed are Kindle Editions unless noted differently. All titles are linked to Goodreads for your convenience.
Undead on Arrival
by Justin Robinson [
Purchase
]
Glen Novak is a dead man. Unfortunately for the scumbag who killed him, Novak will keep on cracking skulls and breaking bones until he finds the piece of trash that set him up, or is turned into a walking sack of rotten meat. With Undead On Arrival, Justin Robinson gives us a hard boiled zombie tale, and one of the most brutally compellingly examinations of the living dead you'll ever read.
No Cure. No Hope. No Mercy.
Burn The Dead: Quarantine
by Steven Jenkins [
Purchase
]
Robert Stephenson makes his living burning zombies – a job that pays the bills and plays tricks on the mind. Still, his life is routine until one day his infected wife, Anna, shows up in line for the incinerator, and Rob must cremate the love of his life.
In a race against the clock, he must find his four-year-old son Sammy, who is stranded in a newly quarantined zone, teeming with the walking dead, and crawling with the Necro-Morbus virus.
Does Rob have what it takes to fight the undead and put his broken family back together?
Or will he also end up in the incinerator – burning with the rest of the dead?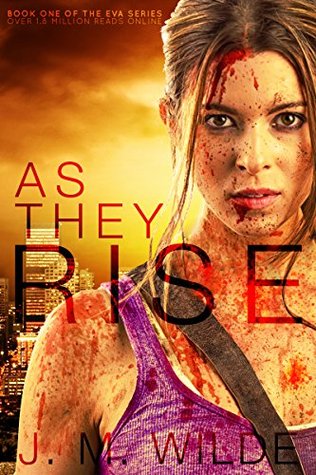 As They Rise
by Jen Wilde [
Purchase
]
Eva was just an everyday girl, working as a waitress, hanging out with her friends, and falling in love. But her world changed overnight when a powerful virus spread throughout the country, transforming it into a wasteland of deadly disease and crazed zombies. With Australia cut off from the rest of the world and rampant with terror and chaos, Eva and her friends must do whatever they can to survive.
Set in Australia, horror, friendship and true love collide to make this tale of survival stand out from the rest.
Turning Grace
by J.Q. Davis [
Purchase
]
Life or death?
It's all the same for Grace...
Everything seems ordinary for Grace Watkins. With the exception of a strange hunger that is building inside her with each passing day, her life is as typical as any other senior at Middleton High.
The only issue Grace has is keeping her protective best friend away from giving her lone enemy, the ever-so-popular Sonny Westwood, a classic schoolyard beat down. It doesn't help that Grace has had a secret crush on Sonny's man since the first day she laid eyes on him.
But as one of her favorite nights of the year approaches, Grace begins to realize there may not be anything...normal about her. Her body is changing and her appetite is growing. Suddenly, her urges are becoming uncontrollable and the neighborhood cats are starting to smell...delicious.
What happens when something...or someone stands in the way of feeding her need?
Better yet, what the hell is wrong with her?
Panic (Wildfire Chronicles Vol. 1)
by K.R. Griffiths [
Purchase
]
Michael Evans is only in rural St. Davids to maintain a low profile after his time spent as a city cop ended in disaster. The town is perfect for him: isolated. A tiny population. Virtually no crime.
Until the night the strange canisters fall from the sky and the town priest starts killing people with his teeth. To Michael, the bloodbath looks like a murder case that the quiet town's two police officers can't possibly handle.
But this isn't just a crime scene.
And the priest is just the beginning...
Shock (Wildfire Chronicles Vol. 2)
by K.R. Griffiths [
Purchase
]
The team had been told it would be a straightforward mission: enter St. Davids, now little more than a ghost town, retrieve the target and return to base.
Trouble is, the target is a man named Victor, and it looks like somebody else got to him first.
And St. Davids is anything but a ghost town...
Sea Sick
by Iain Rob Wright [
Purchase
]
WELCOME ABOARD…
Police Officer Jack Wardsley's life ended the moment his partner died, stabbed to death by a degenerate thug. His recent record of police brutality, and a reputation for not following the rules, has prompted his seniors to give him an ultimatum: take a few weeks off and let go of all the anger – or face the consequences.
That's why Jack is about to board The Spirit of Kirkpatrick, a cruise liner built for relaxation and fun. Maybe there he can revaluate his life and decide if he even wants to continue living. Unfortunately he won't get the chance to do much thinking, as there's a virus onboard making people insane. Soon the entire ship will be overrun with blood and death. There is nowhere to escape.
But just when Jack thinks his time is up, he wakes up in bed. Was it all a dream? The day seems to be starting over again, but will this time be different? Or will things end the same way as before, with everybody dead?
Can anything Jack can do anything to stop the spread of the evil pathogen, or is he doomed never to see land again?
--------------------------------------------------------------
*Though free at time of posting, please verify that the "Kindle Price" is actually $0.00. If you see a price for "Prime Members" or "read for free", then the book is NOT free any longer. Please leave a comment if you notice this so I can replace with another :)

*Authors Have an upcoming Zombie book that will be FREE let me know, I'd love to feature your work in my post.
--------------------------------------------------------------
Out of curiosity, Have you read any of the books above?
If yes, Would you recommend it?
If No, Which ones do you plan on reading?
Leave me your answers in the comments below or feel free to tweet me them @Hermyoni
Well that about wraps up this weeks Zurvival Saturday. Like what you see? Please share! I thank you if you do. Want to check out past Zurvival Saturday's?
Click Here