Zurvival Saturday (42)

*This post will contain spoilers and discussion regarding The Walking Dead. Please stop reading if you do not want to be spoiled.
*Trumpets Blare, Noisemakers go off* The Walking Dead returns tomorrow woohoo!! For this week's Zurvival Saturday I'm going to talk about what else?!? The Walking Dead, of course!! Finally, after what seems like an epic long break The Walking Dead returns with the episode The Suicide King. The episode will air February 10, 2013 at 9/8c on AMC.
The Suicide King- After the invasion of Woodbury by Rick's group, Daryl and Merle are captured by The Governor. Rick decides the fate of Tyreese's group.
Ominous sounding isn't it?? I've been trying to wrap my head around the mid-season finale since seeing it, especially with Merle and Daryl captured but I'll save those thoughts for another day. I'll be doing episode recaps/thoughts later in the year once the season has finished.
Check out the creepy Mid-Season premier poster below, An Eye for an Eye. *Gulp* Let's hope this doesn't mean Rick will lose his eye or worse since the Governor lost his daughter does this spell bad tidings for Carl or Judith?!?
Some extremely telling promos have come out regarding this episode. Things certainly look bleak for Merle and Daryl. Here is a sneak peek featuring the Dixon Brothers!
Now the Dixon Brothers aren't the only group members we have to worry about, the prison gang also has some problem of their own. Namely the newly acquired survivors rescued from the bowels of the prison in Episode 8. Could a coup be in order??
Overall I feel this is shaping up to be an explosive mid-season premiere. I'm hoping everyone makes it back to camp alive but being that everyone is fair game on this show I won't know until the episode actually airs. Until then I'll be hoping and wishing with baited breath.
Now For This Weeks Questions:
Do you watch The Walking Dead? If so, Are you Team Woodbury or Team Prison?
For fun: Zombies are outside about to break down your door. Look to your left, What item do you see? Based on that item would you stay alive or die?
Leave your answers in the comments below,I love reading your responses!
If you would like to participate in this or any upcoming Zurvival Saturdays, grab the button below and link me in the comments so I can check it out.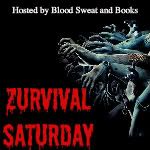 *
I do not own any of the images or clips shown above. All rights belong to AMC.