Review: Party Games by R.L. Stine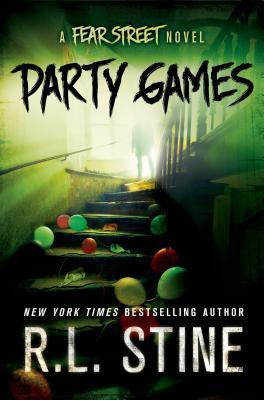 Author: R.L. Stine
Genre: Horror, Young Adult
Series: Fear Street
Publisher: St. Martin's Griffin
Publication: September 30, 2014
Her friends warn her not to go to Brendan Fear's birthday party at his family's estate on mysterious Fear Island. But Rachel Martin has a crush on Brendan and is excited to be invited. Brendan has a lot of party games planned. But one game no one planned intrudes on his party—the game of murder. As the guests start dying one by one, Rachel realizes to her horror that she and the other teenagers are trapped on the tiny island with someone who may want to kill them all. How to escape this deadly game? Rachel doesn't know whom she can trust. She should have realized that nothing is as it seems… on Fear Island.
R.L. Stine makes his triumphant return to Shadyside, a town of nightmares, shadows, and genuine terror, and to the bestselling series that began his career writing horror for the juvenile market, in the new Fear Street book Party Games.
Review
One of the downsides being an adult my age is that I can remember the original Fear Street novels. To this day, The Overnight, The Prom Queen and Sunburn remain some of my very favorite books. However, with that knowledge I can't help myself but compare R.L. Stine's newest book Party Games to all those of the past despite trying very hard not to.
Now before I go into what I found wrong with this book, I want to state that I'm still a huge fan of the Author and that his return to Fear Street for me is still very welcome, especially in today's Dystopian heavy world of literature. We need more Young Adult Horror and what better way than by bringing back the world of The Fears. So with that being said, here are some of the issues that I had with Party Games....
One of the first problems I came across was the premise. A party turned murder mystery could of went a million different directions but instead the Author decided to go with the overused plot of Rich boy hosts party, invites awkward social outcast who also happens to be hot and then plays pranks on all invited. Yes, before you say it, I know the Fear Street novels all do things like this but c'mon this is supposed to be R.L. Stine's triumphant return to Shadyside, think outside the box a little.
Another issue I had was it's pacing. The beginning dragged so much that I wondered if anything was even going to happen. One of the things I liked about the Fear Street books was the set up to the story but I don't think we received that with Party Games. I would've liked more than a dead animal in Rachel's bed to remind us that yes, we were indeed reading a Fear Street novel.
Lastly, I didn't really like the ending. It was too optimistic. I mean, sure, I didn't want Rachel to be scarred over the events that transpired on Fear Island but at least take some time (not just a week or two) to mull over things. One relationship nearly ended in Murder and here you are just two weeks later ready to date someone new. Sure teens have short attention spans but c'mon now maybe wait awhile before jumping ships.
Now although I had a few issues with the story that doesn't mean that Party Games was all bad.
First off, I loved the twist! I knew something was going down with Rachel's ex but the actual reason for all his behavior came as a surprise. Plus I liked how everything played into each other such as the "cops" arriving just in the nick of time to save the day. These kids were lucky that's for sure.
Another thing I really enjoyed were the references to past Fear Street novels. Now I won't name them because finding these nuggets of information was half the fun but I will say that I'm sure I missed some so I might need to read this again in the future just to check.
Final Thoughts
Party Games might not have been all I was hoping for but it was still a fun read and ultimately I'm happy to have read it. The thing is, while Party Games might have been written with the intention of introducing new fans to the world of Fear Street, more than likely it's the older fans who will probably be the most vocal in their critique. By neglecting the fans who put Fear Street on the map, R.L. Stine's triumphant return to the world of Fear may well turn out to be his last and for this fan that's a shame.
With that being said, I'll be rating Party Games by R.L. Stine ★★★.
*Review copy provided by publisher. All opinions are my own and I was not compensated in an which way for providing them.
Robert Lawrence Stine known as R. L. Stine and Jovial Bob Stine, is an American novelist and writer, well known for targeting younger audiences. Stine, who is often called the Stephen King of children's literature, is the author of dozens of popular horror fiction novellas, including the books in the Goosebumps, Rotten School, Mostly Ghostly, The Nightmare Room and Fear Street series.
R. L. Stine began his writing career when he was nine years old, and today he has achieved the position of the bestselling children's author in history. In the early 1990s, Stine was catapulted to fame when he wrote the unprecedented, bestselling Goosebumps® series, which sold more than 250 million copies and became a worldwide multimedia phenomenon. His other major series, Fear Street, has over 80 million copies sold.
Stine has received numerous awards of recognition, including several Nickelodeon Kids' Choice Awards and Disney Adventures Kids' Choice Awards, and he has been selected by kids as one of their favorite authors in the NEA's Read Across America program. He lives in New York, NY.