Waiting On Wednesday (98) Salt & Storm by Kendall Kulper
Waiting On Wednesday is a weekly blog post hosted by Breaking The Spine where readers showcase which books they are highly anticipating. For this weeks Waiting on Wednesday, I chose Salt & Storm by Kendall Kulper.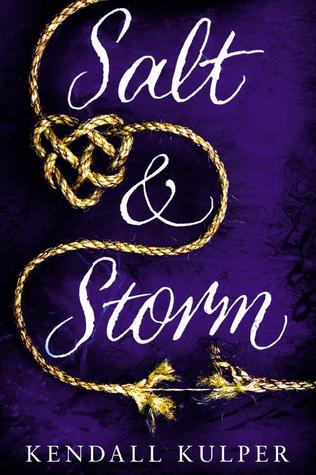 Expected Publication:
September 23, 2014 from Little,Brown Books for young readers
Sixteen-year-old Avery Roe wants only to take her rightful place as the witch of Prince Island, making the charms that keep the island's whale men safe and prosperous at sea. But before she could learn how to control her power, her mother, the first Roe woman in centuries to turn her back on magic, stole Avery away from her grandmother. Avery must escape from her mother before her grandmother dies, taking with her the secrets of the Roes' power.
When Avery awakens from a dream foretelling her own murder, she realizes time is running short—for her and for the people of her island, who, without the Roes, will lose their ships and the only life they know.
With the help of Tane, a tattooed harpoon boy from the Pacific Islands, Avery plots her escape from her mother and unravels the mysteries of her mother's and grandmother's pasts. Becoming a witch may prevent her murder and save her island from ruin, but Avery discovers it will also require a sacrifice she never expected—one she might not be able to make.
____________________________________
Sat & Storm is one of those books that has tons of hype. For months I've seen Salt & Storm on many a TBR and Wishlist since details of it were released. Normally I tend to stay away from books with so much pre-publication hype until I have the chance to read blogger reviews but since I love Witch based stories naturally I want to read this. I have high hopes for this one and I hope it proves to be worth the wait.
______________________________
Since I'm curious, Have you heard of this book before?
If so, Do you plan on reading it?
Sound off in the comments below. I love to read your responses.
That about wraps up my Waiting On Wednesday for this week. Feel free to leave a link to your Wednesday memes in the comments below, I love finding new books to read. Like what you see? Please share!