Freebie Friday (68) Free Young/Adult, Dystopian, Contemporary & Fantasy E-Books
It's time for another edition of Freebie Friday! Each week I compile a list of books that I've found for FREE and share them with all of you! All you have to do is click on the title and it will take you to the purchase page for that book. Unless noted all books are first in the series.
Young Adult (Dystopian, Fantasy)
Concealed in the Shadows by Gabrielle Arrowsmith
[
Purchase
]
Sydney Harter has long awaited September 12th, 2033—her eighteenth birthday. She can finally apply for guardianship of her sister, who is her only family and entire world. She hopes they will be lawfully reunited, but is prepared to defy authority and risk everything to escape the captivity of Miles County so that they can be together.
Escaping will be difficult and dangerous. Citizens are bound to their county by sophisticated chip implants that deliver shocks to those who dare to cross the electric barrier. Sydney is very clever, but her trickery is limited against the all-seeing eyes of technology. Even if they were to survive the escape, disappearing into the forgotten forests and towns of the past seems an impossible task.
What Sydney doesn't know is that she is the particular interest of two opposing forces. With deceit, fear, and warfare surrounding her—can she trust the party that aims to help with her fight against the other? Can she open her heart to receive and return unexpected love? When her sister's life becomes jeopardized, Sydney will have to weigh a new love against the only enduring love she has known. The cost could be deadly…
How will she choose?
The Blemished by Sarah Dulton
[
Purchase
]
A beautiful world comes at a price...
In a world filled with stunning clones Mina Hart is Blemished. Her genes are worthless and that takes away her rights: her right to an Education, her right to a normal life and her right to have a child.
Mina keeps a dangerous secret which she never thought she could share until she meets Angela on her first day at St Jude's School. But their friendship is soon complicated by Angela's adoptive brother Daniel. Mina finds herself drawn to his mysterious powers and impulsive nature. Then there is the gorgeous clone Sebastian who Mina is forbidden from even speaking to…
The Blemished is a frightening take on a fractured future where the Genetic Enhancement Ministry have taken control of Britain. It will take you on a ride filled with adventure, romance and rebellion.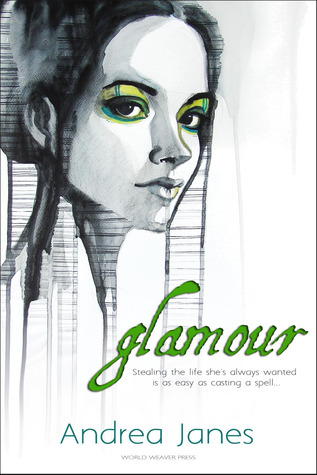 Glamour by Andrea Janes
[
Purchase
]
Townie. That's what eighteen-year-old Christina Sundy is. All year round she lives in a one-stoplight town on Cape Cod, and when summer comes, she spends her days scooping ice cream for the rich tourists she hates. So when one of them takes a job in the ice cream shop alongside her, she's pissed. Why does a blonde and perky Harvard-bound rich girl like Reese Manning want to scoop ice cream anyway?
Something else weird is happening to Christina: tiny blue sparks seem to be shooting off her fingers. It isn't long before she realizes the truth about herself — she's actually a powerful hereditary witch. But her newfound powers are too intense for her to handle and, in a moment of rage, she accidentally zaps Reese into another dimension.
So that no one will notice that the rich girl has disappeared, Christina casts a disguising spell, or "glamour," and lives Reese's life while she tries to find a retrieval spell.But as the retrieval spell proves harder than anticipated, and as she goes about living Reese's life without anyone on the outside noticing the switch, Christina realizes that there's nothing to stop her from making the glamour permanent... except, of course, her fellow witches, a 16th century demon, and, just maybe, her own conscience.
Tethered by Brandi Leigh Hall
[
Purchase
]
No matter how you try to fight it—destiny has a mind of its own!
Since foreseeing the imminent death of her parents six years earlier, Chloe has lived a simple, not-so-charmed-life away from her remaining Wiccan family.
Zero magic.
No close friendships.
While struggling to bench-press more guilt than any nineteen-year-old ever should.
But fate intervenes and forces Chloe to return home. As if being an in-the-closet-Seer wasn't bad enough, now she has to spend summer break with the snarky sister who hates her—and the magical birthright she was hell-bent on denying for all eternity.
Luckily, meeting Mr. Perfect takes the edge off her endless family drama. Hunter's twenty-five, sometimes old-fashioned in a Jane Austen hero sort of way, and more delicious than molten-lava cake. But the more she tries to hide her family's magical secrets from this ever-present stranger, the more quickly she realizes he's hiding a few doozies of his own.
Will the lies and betrayal destroy their relationship before it really begins? Or will learning of their tethered future create an unbreakable bond neither can deny? Either way, their hearts will be forever entwined by destiny.
In Between by Jenny B. Jones
[
Purchase
]
Can we overcome our past?
Katie Parker is about to get a new life—whether she wants one or not. With her mom in prison, and her father AWOL, Katie is sent to live with a squeaky-clean family who could have their own sitcom. She launches a full-scale plan to get sent back to the girls' home when she finds herself in over her head...and heart. When Katie and her new "wrong crowd" get into significant trouble at school, she finds her punishment is restoring a historic theater with a crazy grandma who goes by the name of Mad Maxine. In the midst of her punishment, Katie uncovers family secrets that run deep, and realizes she's not the only one with a pain-filled past. Katie must decide if she'll continue her own family's messed up legacy or embrace a new beginning in this place called In Between
Adult (Contemporary, Thriller)
Larger Than Life by Jodi Picoult
[
Purchase
]
A researcher studying memory in elephants, Alice is fascinated by the bonds between mother and calf—the mother's powerful protective instincts and her newborn's unwavering loyalty. Living on a game reserve in Botswana, Alice is able to view the animals in their natural habitat—while following an important rule: She must only observe and never interfere. Then she finds an orphaned young elephant in the bush and cannot bear to leave the helpless baby behind. Thinking back on her own childhood, and on her shifting relationship with her mother, Alice risks her career to care for the calf. Yet what she comes to understand is the depth of a parent's love.
Messages by John Michael Hileman
[
Purchase
]
David Chance can see messages in the sea of words around him, messages that warn him of future events.
Words are everywhere-- on labels, magazines, sign posts, t-shirts-- everywhere. And as much as David Chance would like to hide from them, he can't. Words keep leaping off objects around him, forming messages in his mind. But how is this possible? Has his brain suddenly taken an evolutionary leap forward, or are the mysterious messages proof of divine intervention?
Driven to answer a question he'd long ago abandoned, and stalked by the killer he's trying to stop, David risks everything to follow the messages to a dirty bomb set to go off in the heart of Boston. But can he trust the author of the messages to protect him from a terrorist who seems to know his every move.
-------------------------------------------------
--------------------------
*Though free at time of posting, please verify that the "Kindle Price" is actually $0.00. If you see a price for "Prime Members" or "read for free", then the book is NOT free any longer. Please leave a comment if you notice this so I can replace with another :)

*Authors Have an upcoming book that will be FREE let me know, I'd love to feature your work in my post.