Book Spotlight & Giveaway!! In the Afterlight (Darkest Minds #3) by Alexandra Bracken
Welcome to the book promo and HUGE giveaway for
In the Afterlight by Alexandra Bracken!!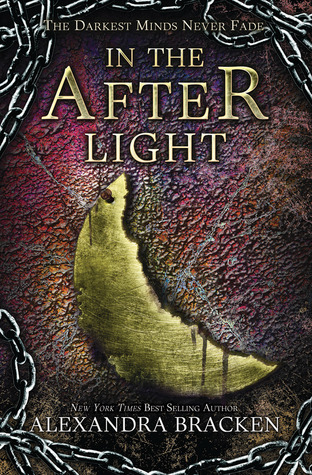 Author: Alexandra Bracken
Series: The Darkest Minds #3
Genre: Young Adult, Paranormal
Publisher: Disney-Hyperion
Expected Publication:October 28, 2014
Ruby can't look back. Fractured by an unbearable loss, she and the kids who survived the government's attack on Los Angeles travel north to regroup. With them is a prisoner: Clancy Gray, son of the president, and one of the few people Ruby has encountered with abilities like hers. Only Ruby has any power over him, and just one slip could lead to Clancy wreaking havoc on their minds.
They are armed only with a volatile secret: proof of a government conspiracy to cover up the real cause of IANN, the disease that has killed most of America's children and left Ruby and others like her with powers the government will kill to keep contained. But internal strife may destroy their only chance to free the "rehabilitation camps" housing thousands of other Psi kids.
Meanwhile, reunited with Liam, the boy she would-and did-sacrifice everything for to keep alive, Ruby must face the painful repercussions of having tampered with his memories of her. She turns to Cole, his older brother, to provide the intense training she knows she will need to take down Gray and the government. But Cole has demons of his own, and one fatal mistake may be the spark that sets the world on fire.
Also check out the latest Darkest Minds Novella which released September 2nd!
Sparks and Rise
Don't miss the thrilling novella that connects the last two novels in the New York Times best-selling Darkest Minds trilogy.
Sam didn't think things could get worse at Thurmond rehabilitation camp. Then the Reds arrive. Everyone assumed the kids with firepower had been killed years ago. Instead they were taken away, brainwashed, and returned as terrifyingly effective guards. To her horror, Sam recognizes one of them: Lucas, the one spark of light in Sam's dark childhood. Lucas has a deadly secret–he beat the brutal training that turned his fellow Reds into mindless drones. When Sam defends herself against an attack by a vile PSF guard and faces a harrowing punishment, Lucas must risk his everything to save her.
Check out the Entire Series
There will be prize packs to represent each of the 5 Psi groups in the series across the blogosphere throughout the months of September and October.. To enter, all of you should seek out each of the 5 differently colored prize packs!
For this Giveaway, I'll be giving away a Red Prize Pack! Enter below for your chance to win a custom Darkest Minds candle and The Darkest Minds series & tote bag.
a Rafflecopter giveaway
Giveaway open to US addresses only
ABOUT THE AUTHOR
Alexandra Bracken was born and raised in Arizona, but moved east to study at the College of William & Mary in Virginia. She recently relocated to New York City, where she worked in publishing and lives in a charming apartment overflowing with books.
Follow Alexandra:
www.alexandrabracken.com
Twitter
&
Instagram
Facebook
Tumblr