Review: Of Monsters and Madness by Jessica Verday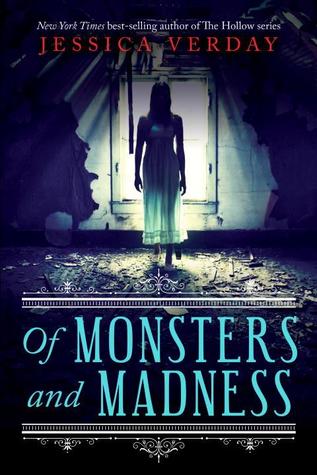 Author: Jessica Verday
Genre: Historical Fiction, Young Adult
Publisher: EgmontUSA
Expected Publication: September 9, 2014
A romantic, historical retelling of classic Gothic horror featuring Edgar Allan Poe and his character Annabel Lee, from a New York Times best-selling author.
Summoned to her father's home in 1820's Philadelphia, a girl finds herself in the midst of a rash of gruesome murders in which he might be implicated. She is torn romantically between her father's assistants-one kind and proper, one mysterious and brooding-who share a dark secret and may have more to do with the violent events than they're letting on.
Spoilers Below
Review
Of Monsters and Madness was a book I had looked forward to reading from the very moment I came across it on Goodreads many moons ago. I was a huge fan of another book called The Madman's Daughter with similar themes and characters so I was hoping that Of Monsters and Madness would captivate me in the same way as well. Unfortunately that was not to be and here's why:
First off, I really didn't like how obvious it was that Edgar and Allen were the same person. Now maybe the story was supposed to pan out this way but personally I would've liked a little bit more mystery before the big reveal.
Secondly, I didn't really like Annabelle, well, at least the majority of the time. I did like that she was interested in Medicine (in a time when girls were not supposed to be) and that she was really headstrong and self sufficient which was nice but the fact she just accepted the role of a being the lesser sex so easily once arriving at her father's estate and then caring so much about his opinion (when in all honesty it shouldn't of mattered at all) made me angry. Why would this bold, brave, adventurous girl care so much about the opinions of a man who didn't even care that she existed?? I mean, it was just silly.
Lastly, I think the worst part about Of Monsters and Madness was that it really felt like a ripoff of The Madman's Daughter rather than just being in the similar style of story. I really hate using the word plagiarize but at times, it really did read that way. It's almost like the Author had seen the idea and decided that if she tweaked enough of it nobody would call her out for it being almost an exact replica of that book. Again, I hate saying that because I do see the talent of the Author shining through at times but if I was Megan Shepherd I'd be angry seeing a book published so similar to mine.
Now although I did have plenty of issues with the story, Of Monsters and Madness wasn't all bad.
First off, one of the best parts about Of Monsters and Madness is the setting of the story
. I really liked that the Author decided to dial back the time period to fit the time Poe is in the area where he meets Annabelle. Yes it might not be historically accurate for Poe fans but I just don't think the story would've worked as well set when it would be.
Secondly, I loved Annabelle's serving maid Maddy, she was adorable and really a finely written character. I really enjoyed all the moments with her on the page and she alone is probably why I kept reading.
The final issue I took with the story was the romance. I just didn't feel the love between the characters. In all honesty, I think I prefer Poe being a loner than mixed up with a girl whose heart he realistically has no chance in keeping captured. Plus I think they had no real sexual chemistry and so that certainly didn't help them either.
Final Thoughts
Of Monsters and Madness had so much potential for greatness but failed to live up to expectations in the end. While I did certainly like aspects of the story and the blending of Poe's works with ideas from Authors like Mary Shelley and Robert Louis Stevenson as a cohesive whole Of Monsters and Madness felt more like a ripoff of other popular works rather than something unique to the Author themselves.
With that being said, I'll be rating Of Monsters and Madness by Jessica Verday
★★
★
.
*Copy reviewed provided through Netgalley. All opinions are my own and I was not compensated in an which way for providing them.
Want to learn more about this book or Author?
Click the link below!
Jessica Verday is the New York Times bestselling author of The Hollow Trilogy, published by Simon & Schuster/Simon Pulse. She wrote the first draft of THE HOLLOW by hand, using thirteen spiral-bound notebooks and fifteen black pens. The first draft of THE HAUNTED took fifteen spiral-bound notebooks and twenty black pens. THE HIDDEN took too many notebooks and too many pens to count. Find out more at
jessicaverday.com
.