Freebie Friday (69) Free Young Adult, Science Fiction and Paranormal E-Books
It's time for another edition of Freebie Friday! Each week I compile a list of books that I've found for FREE and share them with all of you! All you have to do is click on the title and it will take you to the purchase page for that book. Unless noted all books are first in the series.
Young Adult (Dystopian, Fantasy)
Tethered by Brandi Leigh Hall
[
Purchase
]
No matter how you try to fight it—destiny has a mind of its own!
Since foreseeing the imminent death of her parents six years earlier, Chloe has lived a simple, not-so-charmed-life away from her remaining Wiccan family.
Zero magic.
No close friendships.
While struggling to bench-press more guilt than any nineteen-year-old ever should.
But fate intervenes and forces Chloe to return home. As if being an in-the-closet-Seer wasn't bad enough, now she has to spend summer break with the snarky sister who hates her—and the magical birthright she was hell-bent on denying for all eternity.
Luckily, meeting Mr. Perfect takes the edge off her endless family drama. Hunter's twenty-five, sometimes old-fashioned in a Jane Austen hero sort of way, and more delicious than molten-lava cake. But the more she tries to hide her family's magical secrets from this ever-present stranger, the more quickly she realizes he's hiding a few doozies of his own.
Will the lies and betrayal destroy their relationship before it really begins? Or will learning of their tethered future create an unbreakable bond neither can deny? Either way, their hearts will be forever entwined by destiny.
Concealed in the Shadows by Gabrielle Arrowsmith
[
Purchase
]
Sydney Harter has long awaited September 12th, 2033—her eighteenth birthday. She can finally apply for guardianship of her sister, who is her only family and entire world. She hopes they will be lawfully reunited, but is prepared to defy authority and risk everything to escape the captivity of Miles County so that they can be together.
Escaping will be difficult and dangerous. Citizens are bound to their county by sophisticated chip implants that deliver shocks to those who dare to cross the electric barrier. Sydney is very clever, but her trickery is limited against the all-seeing eyes of technology. Even if they were to survive the escape, disappearing into the forgotten forests and towns of the past seems an impossible task.
What Sydney doesn't know is that she is the particular interest of two opposing forces. With deceit, fear, and warfare surrounding her—can she trust the party that aims to help with her fight against the other? Can she open her heart to receive and return unexpected love? When her sister's life becomes jeopardized, Sydney will have to weigh a new love against the only enduring love she has known. The cost could be deadly…
How will she choose?
Darkest Worlds Anthology
[
Purchase
]
An anthology that explores what humans are made of when society falls to its knees. Darkest Worlds includes six original novellas by award-winning authors and best sellers of Young Adult and New Adult Dystopia.
All proceeds go to Girls Write Now, a charity that promotes literacy of inner-city girls.
Nessa: A Breeders Story by Katie French, author of The Breeders: Eighteen-year-old Nessa knows what it's like to be an endangered species. Growing up in a dying world where nine out of ten babies are born male, she survives by trusting no one. When Marlin, the nineteen-year-old gunslinger, kills the man who has been keeping her enslaved, Nessa decides he might be her meal ticket. What she doesn't realize is love is still possible, even in their decimated world.
MOON by S.K. Falls, author of World of Shell and Bone: Loyalty. Obedience. Patriotism. Moon Stewart has no doubt that the New Amanian way of life is the right way. The only way. But was there ever a time when she felt differently? In this companion novella to the dystopian bestseller World of Shell and Bone, the secrets of Moon's past are revealed, giving readers a glimpse into the mind of their favorite antagonist.
The First Unforgivable Thing by Zoe Cannon, author of The Torturer's Daughter: When a dissident working undercover as an interrogator is ordered to torture a confession from the only girl he's ever loved, he chooses to defy both the totalitarian regime and the resistance by helping her escape—but she has an agenda of her own...
The Keeper by A.G. Henley, author of The Scourge, a finalist for the Next Generation Indie Book Award: Peree knows his duty as the new Keeper of the Water Bearer, Fennel, is to make sure his people get every drop of their share of the water she collects when the flesh-eating Scourge roam the forest. He will motivate her, distract her, do anything he can to keep her working. He knows his duty is to his people and his people alone. What he doesn't know is that he's falling in love with her.
Survival Lessons by Kate Avery Ellison, author of Frost: A young Farther prisoner named Eva escapes into the monster-filled wilderness of the Frost with a band of fellow inmates, all of whom are harboring secrets...but little do they know that Eva has secrets of her own. Set in the world of The Frost Chronicles.
clean slate complex by Megan Thomason, author of the daynight series: Homeless Alexa Knight agrees to help the do-gooder non-profit The Second Chance Institute in return for medical care for her sick mother. The SCI is wooing the poor and downtrodden into their Clean Slate Complexes--where "everything is provided" from jobs to food, shelter, clothing, and education. Unfortunately, as with all things that sound too good to be true, there's a catch..
Concealed Power
by K.J. Colt [
Purchase
] [
Review
]
Thirteen year old Adenine is kept prisoner by her family. The last carrier of the Death Plague that, along with the war, wiped out thousands of her country's people twenty-five years ago, she isolates herself in her attic bedroom to avoid infecting others.
When her mother fails to bring her food, Adenine begins to starve. Driven by hunger and fear, Adenine ventures into the house and discovers her mother bedridden and sick. Despite her terror of infecting others, Adenine fumbles her way out into the streets of war-torn Borrelia in search of the town's doctor.
Her courage brings her friends... and sinister enemies that plot and plan against her. Adenine's mother is keeping secrets, her friends are lying to her, and when dangers arise she must decide to fight or run.
Jump When Ready
by David Pandolfe [
Purchase
]
Since he drowned, Henry has remained with the same group of teenagers and he keeps wondering why. After all, what could he possibly have in common with a mohawk-sporting punker from the 80s, a roller skater from the 70s with a thing for kimonos, and an English "rocker" from the 60s? Add to that, Henry can hear the other groups but he never sees them. Soon, Henry learns that his new friends all possess unique skills for making themselves noticed by the living. Is Henry's group kept isolated because of their abilities? If so, are they considered gifted or seen only as a potential bad influence?
Before Henry can reach any conclusions, he witnesses his sister being kidnapped. He knows who did it, where she's being held and what will happen if the kidnappers don't get what they want. As the police chase false leads, Henry comes to realize that he's his sister's only hope. But for Henry to even have a chance, he has to convince a group of teenagers that dead doesn't mean helpless
Found
by Brenda L. Harper [
Purchase
]
Dylan lives in a domed city. Her life is regulated by rules and routine, a life that never really knows any conflict. Her future seems written for her. In a week, she will take the final test that will decide what her role will be in society. Will she be a nurturer or a historian? Will she teach or will she lead?
She plays by the rules and hopes that she will be allowed to become a guardian, to watch over a group of children from infancy to adolescence like her own guardian, Davida. However, on testing day, Dylan is shocked when she is taken outside the dome that protects her beloved city, Genero, and told to survive three days on her own. It doesn't take much survival knowledge to know that two bottles of water and a few boxes of protein crackers will not last three days. Dylan has been brought outside the dome to die.
As she struggles to survive, Dylan learns things about herself she had never known before. Like the fact that she desperately does not want to die. Or the fact that she has the power to heal herself. And worst, she learns that there are more lies the council of Genero told her when she meets a creature she has never seen before. A boy.
As Wyatt and Dylan struggle to survive together, Dylan also begins to discover that there are those who want her dead, and others who will do almost anything to capture her. Alive.
Young Adult Contemporary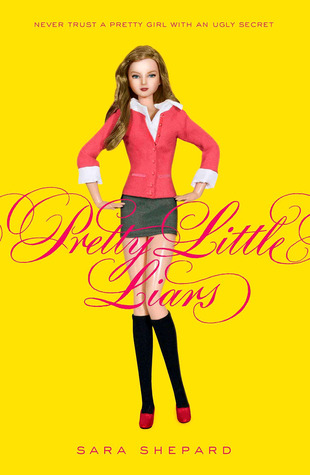 Three years ago, Alison disappeared after a slumber party, not to be seen since. Her friends at the elite Pennsylvania school mourned her, but they also breathed secret sighs of relief. Each of them guarded a secret that only Alison had known. Now they have other dirty little secrets, secrets that could sink them in their gossip-hungry world. When each of them begins receiving anonymous emails and text messages, panic sets in. Are they being betrayed by some one in their circle? Worse yet: Is Alison back? A strong launch for a suspenseful series.
The teens enrolled in 'The Natural Path'--a school for device-addicted kids run by the smooth but vaguely sinister Dr. Zarkov--quickly find out when the school turns out to be nothing but a front for an elaborate kidnapping plot. Trapped on a remote tropical island and facing what looks like certain death, they will have to band together if they hope to defeat their ruthless captors. But it will still take all their ingenuity just to survive...
Science Fiction (Paranormal,Apocalyptic, Zombies)
Because 25 Perfect Days wasn't enough, here comes 5 More.
5 More Perfect Days is the companion to 25 Perfect Days, which was named one of IndieReader's Best Indie Books for 2013
"perfectly disturbing, a walk through a possible future as bleak as George Orwell's 1984. Scary, realistic, and satisfying" IndieReader review of 25 Perfect Days.
Five interlinked stories, each written from a different character's point of view, 5 More Perfect Days continues the dystopian nightmare of 25 Perfect Days, with more tales of the sacrifice, courage, and love needed to survive and overcome this nightmare.
* Please note this is a Companion book to 25 Perfect Days.
Forager
by Peter R. Stone [
Purchas
e]
Eighteen-year-old Ethan Jones lives in Newhome, a town built upon the decaying ruins of post-apocalyptic Melbourne, ruins haunted by the ferocious Skel, a nomadic tribe of degenerate savages.
The Skel are ramping up their attacks on Newhome's foraging teams and infesting Melbourne's ruins in ever greater numbers. Is this part of a larger plan that could spell the town's doom?
Meanwhile, the last thing Ethan expects when he and his companions rescue a two-car convoy from the Skel is a Japanese teenage girl with an outlandish dress-sense, who after they take her back to Newhome, goes to great lengths to ingratiate herself into his life. But is it in gratitude for saving her life or is she seeking something more?
And what a quandry she places him in, for he knows the rules, that no man is permitted to be alone with an unmarried woman. But how can he drive such a gentle soul away when she touchs his heart so deeply, even though she clearly carries the pain of a broken heart.
At the same time, Newhome's police force, the Custodians, are suspicious of Ethan's foraging team's successes and are pulling out the stops to find out which member of his team has the illegal mutant ability that gives them an edge over the other teams. Should these peacekeepers discover Ethan is the mutant they seek, they will haul him away and dissect him like a frog.
Days Gone Bad
by Eric Asher [
Purchase
]
My name is Damian Valdis Vesik. I am a necromancer, an ability feared and hated as much as the powers my master and I set ourselves against. We've vanquished many evils, but now something is releasing an old darkness, forcing us to hunt an enemy beyond anything I've faced before. I was already busy enough with vampires, fairies, witches, Watchers, weddings, and … damn, I need a vacation.
-----------------------------------------------
*Though free at time of posting, please verify that the "Kindle Price" is actually $0.00. If you see a price for "Prime Members" or "read for free", then the book is NOT free any longer. Please leave a comment if you notice this so I can replace with another :)

*Authors Have an upcoming book that will be FREE let me know, I'd love to feature your work in my post.