Review: The Last Orphans by N.W. Harris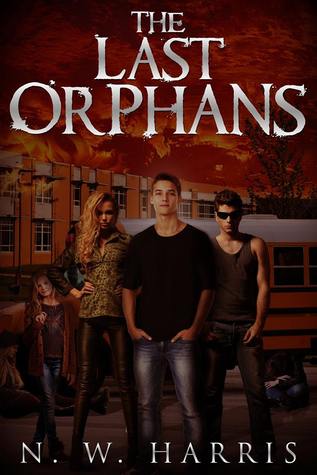 Author: N.W. Harris
Genre: Post Apocalyptic, Horror, Young Adult
Publisher: Clean Teen Publishing
Publication: October 9, 2014
One horrifying day will change the life of sixteen-year-old Shane Tucker and every other kid in the world.
In a span of mere hours, the entire adult population is decimated, leaving their children behind to fend for themselves and deal with the horrific aftermath of the freak occurrence. As one of the newly made elders in his small town, Shane finds himself taking on the role of caretaker for a large group of juvenile survivors. One who just happens to be Kelly Douglas—an out-of-his-league classmate—who, on any other day, would have never given Shane a second glance.
Together, they begin their quest to find out why all of the adults were slaughtered. What they find is even more horrifying than anything they could have expected—the annihilation of the adults was only the beginning. Shane and his friends are not the unlucky survivors left to inherit this new, messed-up planet. No, they are its next victims. There is an unknown power out there, and it won't stop until every person in the world is dead.
Review
The Last Orphans takes place at the start of a massive event that leaves all adults (at least within the characters limited scope) dead and anyone under the age of 18 alive. Things quickly go from bad to worse for those left when they learn that within days whatever has been happening will start affecting them as well. It is up to Shane and his ragtag group of survivors to figure it all out before time runs out not only for them but humanity as we know it.
One of the best parts about The Last Orphans was that the story was action packed and full of suspense. While events did unfolded rather quickly, they were at least exciting to watch. I especially enjoyed all the creative ways the adult were killed. Yes, that may be morbid but death by cockroach or being stung by a million bees is still pretty wicked to see. Plus these deaths all helped set the pace for the story and really showed us what the characters were up against. Afterall, where do you hide when literally everything can kill you??
I also really liked that the characters all seemed real. All the kids left behind just tried to cope in the best way possible and they didn't change into mini Rambo's with unlimited amounts of survival knowledge just because the world as they knew it had changed.
Now although I did like The Last Orphans, it was not without a few small faults that kept me from rating it higher.
First off, while I love fast paced stories, this book felt like it was stuck on Turbo. Encounters with secondary characters that should have had an impact felt rushed, Deaths from relatively major characters were glossed over and even the mass event that takes place was finished within a blink of an eye. Had the pacing slowed down some, I have no doubt I would of rated this story a full 5 stars.
Secondly, I didn't like the ending. While I understand that this is a series so a cliffhanger ending was inevitable, I still feel like the story should of went another way than it did. Having the group watched on a monitor at the lab by a bunch of unknowns would of been way cooler than the woman in black appearing telling them to wake up. The ending as a whole just felt slightly anti-climatic for me and I didn't particularly like it.
Lastly, I felt more care should of been taken looking for survivors. Yes, I understand kids watching kids isn't ideal and that they can't save everyone but just thinking of all the toddlers and babies locked in homes would be enough to spur me on to try especially considering that it didn't seem like the town they lived in was overly large. Pairing up they could have easily canvased a full neighborhood or two at the very least before things at the school took place causing them to move on. Making an honest effort to save some of those locked in homes is better than saving none at all at least in this readers opinion.
Final Thoughts
Although The Last Orphans did feel entirely too rushed, it was a good story with an interesting premise nonetheless. I look forward to reading the sequel and highly suggest picking this up if you haven't already.

With that being said, I'll be rating The Last Orphans by ★★★★.
*Copy provided for review by Author. All opinions are my own and I was not compensated in an which way for providing them.
Born at the end of the Vietnam war and raised on a horse farm near small town north Georgia, his imagination evolved under the swaying pines surrounding his family's log home. On summer days that were too hot, winter days that were too cold, and every night into the wee morning hours, he read books.
In addition to writing, he has been a submarine sailor, nurse, and business owner. His studies have included biology, anthropology, and medicine at UCSB and SUNY Buffalo. He is an active member of SCBWI and lives in sunny southern California with his beautiful wife and two perfect children. He writes like he reads, constantly.
Follow N.W. Harris:
Website
/
Twitter
/
Goodreads