Review: The Fifth Wave by Rick Yancey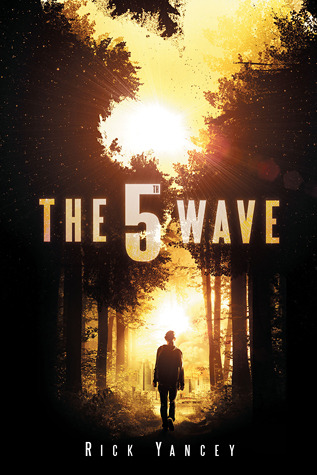 Author: Rick Yancey
Genre: Young Adult, Science Fiction
Publisher: G.P. Putnam's Sons
Publication Date: May 7, 2013
After the 1st wave, only darkness remains. After the 2nd, only the lucky escape. And after the 3rd, only the unlucky survive. After the 4th wave, only one rule applies: trust no one.
Now, it's the dawn of the 5th wave, and on a lonely stretch of highway, Cassie runs from Them. The beings who only look human, who roam the countryside killing anyone they see. Who have scattered Earth's last survivors. To stay alone is to stay alive, Cassie believes, until she meets Evan Walker. Beguiling and mysterious, Evan Walker may be Cassie's only hope for rescuing her brother--or even saving herself. But Cassie must choose: between trust and despair, between defiance and surrender, between life and death. To give up or to get up.
Review
Sometimes it hurts so bad when a book doesn't meet even half of your expectations. This is my second time tackling The Fifth Wave. The first time I stopped after hearing Cassie prattle on about Ben for what seemed like the fifteen-thousandth time and then this time I actually succeeded in reading it through it's entirety.
Maybe I just wasn't meant to be a fan of this book. That's not to say that Rick Yancey isn't a good storyteller. I mean, the guy can write and I have a ton of highlighted quotes to attest to that but... I think he also fell into the Young Adult trap where a girl can't be interesting unless she has a boy around to help her.
Cassie starts off incredibly strong. She knows what she needs to do to survive and she does albeit with a few bumps and bullets along the way. If the story had stayed entirely on Cassie I'm sure my opinion would be ten times better. However, just when we start to get down to the nitty gritty the POV changes and were thrust into another view point. Sometimes it's Cassies brother but mostly it's the perspective from a boy named Zombie whose working for the rebellion. This wouldn't be so bad if Cassie received the most focus but it seemed like once Zombie was introduced most of the time we were stuck with him.
Speaking of character focus, the one secondary character I actually would have loved reading more from was Evan. His story was incredibly interesting and I was so mad at the end when Cassie basically shrugs off everything they'd been through because good ole Zombie was around. You can tell by her gestures and reactions that if they weren't running for their lives she'd be dropping drawers for Zombie in a heartbeat, Evan be damned. Whether Zombie will reciprocate though is another story. Who am I kidding of course they are supposed to wind up together. I'd be really surprised (and a bit excited) if she didn't though.
So with much disappointment I look forward to the movie. Maybe, just maybe, I'll be able to be pulled back into the series seeing it on screen. J-Law did it for the Hunger Games so maybe Chloë Moretz will for The Fifth Wave. If not, well at least I did finish the book this time around and give it an honest shot.
With that being said, I'll be rating The Fifth Wave by Rick Yancey ★★★.
*Review copy purchased . All opinions are my own and I was not compensated by the Author or the publisher for providing them.
About the Author
Rick Yancey is a native Floridian and a graduate of Roosevelt University in Chicago. He earned a B.A. in English which he put to use as a field officer for the Internal Revenue Service. Inspired and encouraged by his wife, he decided his degree might also be useful in writing books and in 2004 he began writing full-time.
Since then he has launched two critically acclaimed series: The Extraordinary Adventures of Alfred Kropp, for young readers, and The Highly Effective Detective, for adults. Both books are set in Knoxville, Tennessee, where Rick lived for ten years before returning to Florida.