Review: Shallow Graves by Kali Wallace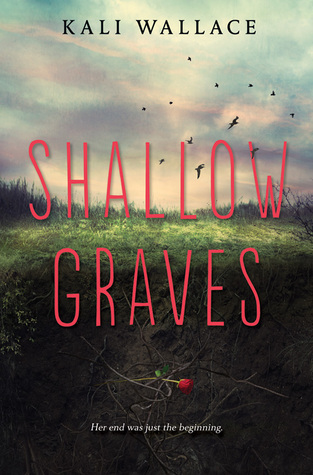 Author: Kali Wallace
Genre: Young Adult, Horror, Paranormal
Publisher: Katherine Tegen Books
Publication Date: January 26, 2016
For fans of Holly Black and Nova Ren Suma, a gripping, hauntingly atmospheric novel about murder, revenge, and a world where monsters—human and otherwise—lurk at the fringes.
When seventeen-year-old Breezy Lin wakes up in a shallow grave one year after her death, she doesn't remember who killed her or why. All she knows is that she's somehow conscious—and not only that, she's able to sense who around her is hiding a murderous past. In life, Breezy was always drawn to the elegance of the universe and the mystery of the stars. Now she must set out to find answers and discover what is to become of her in the gritty, dangerous world to which she now belongs—where killers hide in plain sight and a sinister cult is hunting for strange creatures like her. What she finds is at once empowering, redemptive, and dangerous.
Tense, complex, and wholly engaging, Shallow Graves is a stunning first novel from Kali Wallace.
Review
Ah, Shallow Graves, Thank you for being so awesome. After my lackluster reading year in 2015 I knew I needed a book to start 2016 off right. Shallow Graves sounded like the book that could fit the bill and fit it, the book did.
From start to finish I was completely hooked into the story and its characters. Breezy was what I like to call an onion of a character. She wasn't just a one note type of gal, instead she was filled with complex layers that revealed themselves as the story progressed. I like that in a character. It was also completely refreshing having a Bi-Sexual character receive the spotlight. While her sexuality isn't an overly huge focus just knowing that a Bi-sexual character is being represented in a positive way made me happy.
As for the story, it was unique to say the least. In Kali Wallace's Shallow Graves, Monsters live among us but it is due to human fear and ignorance that they are hunted down not because the monsters pose a threat and are dangerous. Most of them just want to be left alone. They have families, jobs and are just struggling to make it day by day like the rest of us. Now that Breezy is considered a "Monster" herself she finds herself thrust into a world that until her untimely death she thought only existed in fairy tales.
Now although, I really enjoyed Shallow Graves and the characters within, that's not to say that I don't have a few small gripes with the story. Do they change my rating? No, but I felt I should mention them nonetheless.
First off, I really disliked the fact that the plot with Mother just sort of petered off. No discussion really took place about making sure her shackles were secure or you know, even creating a cave in to ensure she never escaped. It was just like Breezy escaped and then they were driving casually away like nothing epic just happened. I think that could of been tied up better for sure.
Secondly, Breezy visits her hometown twice. You're telling me not a single person recognized her after all that publicity she received after going missing? I know she stayed in the shadows and all but it just seems a bit far fetched that not a soul would recognize her.
Lastly, I was disappointed that we didn't learn much about her resurrection. We do learn that powerful magic is required but not why she in particular was chosen. Also how did the creepy necrophiliac know she was in the backyard just waiting in stasis. I say necrophiliac since he was stroking her corpse so lovingly. I mean, what else could he realistically be?? No matter, it felt like a huge plot hole and irked me.
Overall, despite my few misgivings with the story, I am incredibly happy I decided to read Shallow Graves. If the Author decides to write a sequel (and I hope she does)you can bet I'll be jumping at the bit to get my hands on a copy.
With that being said, I'll be rating Shallow Graves by Kali Wallace
★
★
★★★.
*Review copy provided by publisher. All opinions are my own and I was not compensated for providing them.
About the Author
Kali Wallace studied geology and geophysics before she decided she enjoyed inventing imaginary worlds as much as she liked researching the real one. Her short fiction has appeared in Clarkesworld, F&SF, Asimov's, Lightspeed Magazine, and Tor.com. Her first novel will be published by Katherine Tegen Books in 2016. She lives in southern California.