Let's Reminisce Together (3) Favorite Book Turned Film Adaptations (2000 & Below)
work in progress image
Good day fellow followers! It's Thursday, which means it is time for another edition of Let's Reminisce Together. This week I want to look back at some of my favorite books turned film from my youth. I admit, growing up, I didn't really pay attention to book turned film adaptations. Unless the film came from a series I knew, most slipped by me until I grew older. However, had I known, I'm sure I wouldn't appreciate the films as much as I did. I tend to over analyze adaptations of books I've read first which is sort of why I love doing From Page To Screen posts so much.
For sake of being a Throwback, all of these adaptations will be from 2000 and below. I'm counting anything from my teenage years since that's when I didn't really pay attention to series turned films. Really, I should only count films from before the Internet but my post,my rules, lol.
Anywho, In no particular order here are my favorite adaptations growing up:
5.)
Babe (1995)
Babe (film) is a 1995 Australian-American Com-Dram film directed by Chris Noonan. Babe is based on 1983 novel called The Sheep-Pig ( written by Dick King-Smith) which tells the story of a pig who wants to be a sheepdog.
Why I loved it
: I actually don't really remember the book all that well. I read it in Elementary School but it didn't really stick with me. I was much more of a Charlotte's Web kind of girl when it came to Pig films. However, when I saw the film, I was in love. James Cromwell as Arthur Hogett was perfection and who can forget this scene.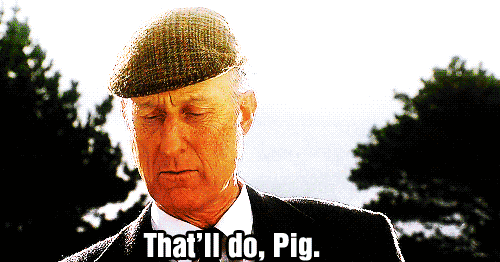 Yup, I still bust out in tears whenever that scene happens.
4.)
The Brave Little Toaster (1987)
The Brave Little Toaster (film) is a 1987 American made animated musical/adventure film directed by Jerry Rees. The film was adapted from the 1980 novel The Brave Little Toaster: A Bedtime Story for Small Appliances written by Thomas M. Disch. The Brave Little Toaster is a story that focuses on five appliances who go on a quest to search for their original owner.
Why I loved it
: Now I admit, I didn't read this story until I was much older. So I can't really say much about that. As an Adult reading it, I thought it was OK but the film, oh my, the film was so, so, much better. In fact, I ugly cry watching this movie to this day.
3.)
Election (1999)
Election is a 1999 American Com-Dram film directed and written by Alexander Payne. The film was adapted from a 1998 novel of the same title written by Author Tom Perrotta. Election revolves around a teacher and student going head to head during student body elections. Class over-achiever Tracy is determined to become President at all costs and her teacher Jim McCallister does everything in his power to stop that from happening.
Why I loved it
: Two words: Reese Witherspoon. Guys, I'm telling you she is perfection as the role of over achieving know it all Tracy Flick. This film came out right around the time she was America's Sweetheart and so for her to play such a devious little thing was really different for her. Anyway, I loved her in this and while I personally think the film is underrated it is definitely one of my favorites of hers in the end.
2.)
Cruel Intentions (1999)
Cruel Intentions is a 1999 American teen drama directed by Roger Kumble. Cruel Intentions is loosely adapted from Les Liaisons dangereuses, written by Pierre Choderlos de Laclos in 1782. Cruel Intentions follows the story of a select group of wealthy teenagers attending high school in modern day New York City. Virtuous Annette catches the eye of playboy Sebastian and he immediately makes it his life goal to bed her much to the annoyance of his step-sister Kathryn.
Why I loved it
: Cruel Intentions was one of my favorite books as a teenager. I remember reading the original story in my Sophmore year and it was really good. However, when I saw the film, I was blown away. OK, maybe that is a bit over reaching but I did have a thing for Ryan Philippe and so..yeah. I really loved Sarah Michelle Gellar in her role as Kathryn as well. At that time I pretty much only knew her from two things Buffy and Swan's Crossing. Seeing her in such a wicked role was great and really showcased her versatility as an actress which in turn, helped me appreciate her Buffy role that much more.
1.)
10 Things I Hate About You (1999)
10 Things I Hate About You is a 1999 high school comedy directed by Gil Junger. 10 Things I Hate About You is loosely based on the book The Taming of the Shrew by the man himself, Mr. William Shakespeare. The story follows a new student named Cameron who quickly becomes smitten with a girl named Bianca. However, Cameron soon learns that dating Bianca isn't easy and in order for him to do so he'll need to figure out a way to get around her father's strict rules on dating.
Why I loved it
: Sure the film itself is a bit cheesy but the cast was great. Not only did 10 Things I Hate About You introduce us to Heath Ledger but also showed very strong female characters at the forefront of a film, something not really prevalent at that time. While both girls in the end did get the guy, they didn't have to compromise themselves or their ideals to do so. It's a total female empowerment flick and that's why I really love it.
_____________________________________________
That about wraps up this weeks Throwback Thursday.
Like what you see? Please share!
Have anything you'd like me to talk about?
Leave a comment below or tweet me @Hermyoni.