Waiting On Wednesday (136) The Passion of Dolssa by Julie Berry
Waiting On Wednesday is a weekly blog post hosted by
Breaking The Spine
where readers share which books they are highly anticipating. This week I want to share The Passion of Dolssa by Julie Berry.
Why I'm Waiting

:
This book sounds amazing. I just love Historical Fiction stories set during the time of the Inquisition. Is that morbid? Probably. However, it is a very underutilized time period and so fascinating. For some reason this story reminds me of Grave Mercy (not the concept the wording of the synopsis) and that alone makes my body hum with excitement. I did so love that series. Anyway, enough rambling. I can't wait for this one and am so glad it is almost time for it to be released!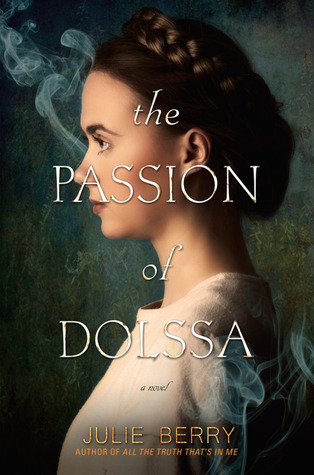 Expected Publication:
April 12, 2016 from Viking Books
I must write this account, and when I have finished, I will burn it.
Buried deep within the archives of a convent in medieval France is an untold story of love, loss, and wonder and the two girls at the heart of it all.
Dolssa is an upper-crust city girl with a secret lover and an uncanny gift. Branded a heretic, she's on the run from the friar who condemned her mother to death by fire, and wants Dolssa executed, too.
Botille is a matchmaker and a tavern-keeper, struggling to keep herself and her sisters on the right side of the law in their seaside town of Bajas.
When their lives collide by a dark riverside, Botille rescues a dying Dolssa and conceals her in the tavern, where an unlikely friendship blooms. Aided by her sisters and Symo, her surly but loyal neighbor, Botille nurses Dolssa back to health and hides her from her pursuers. But all of Botille's tricks, tales, and cleverness can't protect them forever, and when the full wrath of the Church bears down upon Bajas, Dolssa's passion and Botille's good intentions could destroy the entire village.
___________________________________
Since I'm curious, Have you heard of The Passion of Dolssa before?
If so, Do you plan on reading it?
Sound off in the comments below. I love to read your responses.
___________________________________
That about wraps up my Waiting On Wednesday for this week.
Feel free to leave a link to your Wednesday memes in the comments below, I love finding new books to read. Like what you see? Please share!