Freebie Friday (86) Free Young Adult/Adult Paranormal, Romance and Horror Ebooks
FREEBIE FRIDAY!!!!
It's time for another edition of Freebie Friday! Each week I compile a list of books that I've found for FREE and share them with all of you! All you have to do is click on the Purchase button and it will take you to the purchase page for that book. Unless noted all books are first in the series. All titles have been linked to Goodreads for your convenience.
Young Adult (Paranormal,Fantasy)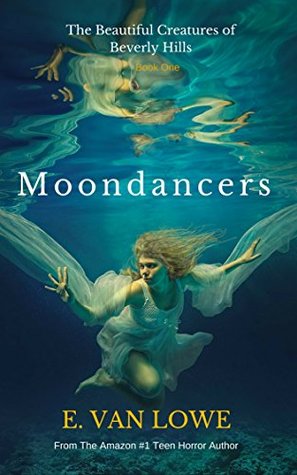 Moondancers
by E. Van Lowe [
Purchase
]
"Young love, paranormal creatures, and murder."
There is a creature haunting the swimming pools of Beverly Hills. 16 year-old Josh Butters believes he sees a connection between the creature and the mysterious and beautiful girl next door. Before long, Josh finds himself falling head-over-heels in love with the girl, Lara, who it turns out is an enchanted being. Josh discovers that he and Lara are soulmates, drawn together by the siren's song, destined to be together from birth. But there's a dark secret to being Lara's soulmate, a secret that involves battling creatures, and an age-old feud. Josh must decide if the price for being Lara's one true love is a price he's willing to pay. It could cost him, his family, and friends their lives.
Dangerously exciting, yet mystical and romantic, Moondancers is a page turning thriller that asks the question "do you believe in soulmates?"
Chosen
by Barbara Ellen Brink [
Purchase
]
Jael is just an average teenage girl with over-protective parents, an unrequited crush on the hottest guy at school, and a best friend she shares everything with. Until her parents let her in on the secret they've kept for nearly sixteen years…
Jael is the Chosen One. Born to be a vampire slayer, her destiny was written in the Book of the Shunned. She's been chosen by God to set the Minnesota Loon Lake Amish community free from the grip of the Bishop, an ancient and powerful bloodsucker who has been using the Amish people for his own personal Jamba Juice.
Will she leave her friends and all she knows and follow her destiny to Minnesota willingly, or will the Bishop bring her destiny to Sunburn, Nevada?
Paradox
by Patti Roberts [
Purchase
] [
Review*
]
Two mysterious strangers arrive just in time to help Grace Connors as she struggles to cope with the death of her father. But are the intentions of these strangers as innocent as they first seem, or is something far more sinister on their agenda?
Meanwhile, in a faraway realm, a race of fallen Angels clash with a ruling house of Angels. Their battle changes events in the Ancient World and the New World forever. A realm where a year can last centuries and an ancient, magical people still rule... A realm where even the immortals face danger.
A story that will indeed leave you asking... Who, When, Where? WHAT!
My name is Juliette. Nine hundred years ago, I died. Today, I am alive... This is my story.
*I reviewed the special edition of this book which includes the second title in the series.
Although it contains no spoilers I did want to mention it.
The Hunted
by C.J. Hart [
Purchase
]
Just your average boy-meets-girl, boy-kills-people story.
The Native American Navajo tribe has stories of a monster so wicked, so blood-thirsty, that they are to be hunted down and slaughtered. But are they just legends? Or is something sinister lurking in the shadows? The Yee Naaldlooshi—skinwalkers—have the ability to transform themselves. And they can be anyone. Anything.
The Hunters—a group dedicated to tracking the creatures—are hot on their trail and they won't stop until every last one is dead. But are they all as evil as foretold? Seb, alpha of the Taylor, Arizona reservation pack, begins to question the acts of their kind. But he's broken a rule and must choose between killing the girl he loves or risking everything to save her. Cassie must fight for her survival. The pack is after her. And they're no joke. Cass is about to find out how sadistic they can be.
Beautiful Demons (The Shadow Demons Saga #1) by Sarra Cannon [
Purchase
]
Harper Madison isn't like other girls. She has extraordinary powers, but her inability to control them has gotten her kicked from so many foster homes she's lost count. Shadowford Home is her last chance, and she hopes Peachville High will be the fresh start she needs. But when evidence ties her to the gruesome murder of a Demons cheerleader, Harper discovers this small town has a big secret.
Inner Demons (The Shadow Demons Saga #2)
by Sarra Cannon [
Purchase
]
Harper Madison is willing to do whatever it takes to get answers about the disappearance of her mother and about her own strange powers. Even if it means joining the Demons cheerleading squad, a secret training ground for witches. The training opens up a new world for Harper. It's a world of beauty and magic beyond her wildest dreams, but it's also a world of sinister expectations.
A world where every secret hides an even darker secret.
Bitter Demons (The Shadow Demons Saga #3)
by Sarra Cannon [
Purchase
]
So far, life in Peachville has been tough for Harper Madison. She's survived attacks on her life, learned how to control her magic, and met the most gorgeous boy - who also happens to be a demon. After her latest stunt at Brighton Hospital, the Order of Shadows is determined to tighten their control on her life.
When a future Prima from a nearby demon gate comes to town, she and Harper decide to use magic to switch places at a party. All Harper wants is to have a little fun.
But the night will end in blood.
And Harper will find out the attack was meant for her...
Horror (Adult & Young Adult)
IN THE JUNGLE NO ONE CAN HEAR YOU SCREAM
American movie star Scarlett Cox and her husband, hotel tycoon Salvador Brazza, head to Africa to get away and resuscitate their ailing marriage. When robbed of their money and passports, they seek help from the U.S. Embassy in Dar es Salaam on the very day Al Qaeda chooses to bomb it. In an eyeblink they are taken hostage and whisked across the border deep into the Congo, one of the last truly wild places left on earth.
Battling terrorists, deadly wildlife, and cannibalistic rebels, Scarlett and Sal must find a way to survive in a violent, primeval world. And the only person who may be able to save them is the assassin sent to kill them.
Mirror Mirror
by Anthony M. Strong [
Purchase
]
Whatever you do, don't look in the mirror.
Jaime thought he'd hit the jackpot when he found the antique mirror out by the curb, just waiting for a new home. Hours later the old mirror with the ornate gold frame was taking up pride of place in his apartment.
But there's something wrong.
The mirror harbors a dark secret, and before long Jaime and his girlfriend Cassie find themselves up against a terrifying supernatural force that has its sights set on them.
A tale of haunting that will make you think twice before walking past a mirror.
Dog Walker
by Jack McGuigan [
Purchase
]
*No longer Free
A BOY AND HIS DEMON
Ben Carter, pet care specialist, is hired to walk a Shiba Inu named Toby. Unbeknownst to Ben, Toby is no ordinary dog but an "inugami" - an immortal demon born in feudal Japan and bred for only one purpose...murder.
A mysterious cult seeks to capture the inugami and harness its power for evil. With the help of an elderly luchador and a cop with a heart of gold, Ben must protect Toby and uncover the secret of the Tengu before the cultists can unleash the beast and the bloodlust claims the inugami once more.
Freshman 15
by Rebecca A. Rogers [
Purchase
]
Please Note: This is the first episode in a serialized Novella series.
Ella and Shay witness more than enough carnage on their first day of college. Matt and his little brother, Devin, are attacked at the grocery store. Lin locks himself inside the pub where he was supposed to perform after watching the pub's owner get eaten.
______________________________________
*Though free at time of posting, please verify that the "Kindle Price" is actually $0.00. If you see a price for "Prime Members" or "read for free", then the book is NOT free any longer. Please leave a comment if you notice this so I can replace with another :)
*Authors Have an upcoming book that will be FREE let me know, I'd love to feature your work in my post.